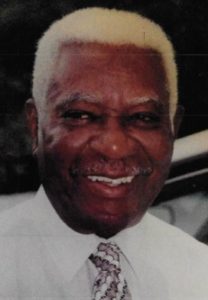 Family and friends are reminded of the passing of Mr. Samuel Frederick Freeman of St. Thomas on Feb. 9.
He is survived by his son, Edney L. (Adnan) Freeman; daughter, Kit-Alia Freeman; brother, Terrance Freeman; sister, Tulsa Anthony; adopted daughters: Crystal Ervin of N.Y. and Geraldine Buncome Malcolm; sisters-in-law: Lillian Greaux, Mae Odlum, Harriette Canton, Clarice C. Comissiong, Rita Canton, Ivanna Innis and Avna Freeman; brothers-in-law: Roy Canton, Ira Canton and Alvin Canton; granddaughters: Mirisa Freeman Malcolm, Rashida Freeman Brown, Ayanna Freeman, Njnanya Boyd and Erica Williams; and grandsons: Regel O Freeman, Kevin Lawrence Freeman, Najocki Boyd, Deval Boyd, Edwin Freeman and Kevin Freeman.
He is also survived by a host of great-grands; special nieces: Terri Freeman Lynch, Leyha Freeman, Margarita Freeman Black, Cindy and Charmaine Rosan of Tortola, BVI, Joycely Smith, Deborah Smith, Dawn Malone, Annice Canton, Wynette Canton, Grace Canton, and many more too numerous to mention; special nephews: Wayne Freeman, Michael Freeman, Derek Freeman, Daren, Dashiell and Troy Freeman, Dr. Keith Comissiong, Dr. Frank Odlum, Jason Jurgen, Kenneth Canton and Roy Canton Jr.; special friends: Ernest Burt, Alvin Petersen, Joan Sealy, Albert George, Rudy and Raymond Francis.
Services will be held Monday, Feb. 25, at Turnbull's Funeral Home. The viewing will be at 9 a.m. at Turnbull's Funeral Home Chapel with services at 10 a.m. at the same location. Interment will be at Western Cemetery No. 1 at the Frenchtown community gate.