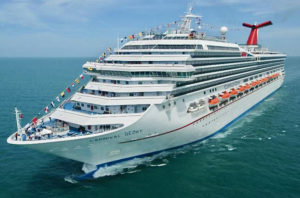 Carnival, the world's largest cruise company, will return to St. Croix Tuesday after more than a decade, when Carnival Glory docks at Frederiksted, and that's a "huge deal" for the island, according to Tourism Commissioner designee Joseph Boschulte.
The ship is expected to be in port from 8 a.m. to 5 p.m., and the Department of Tourism is getting ready to showcase the cultural vibrancy of the island as officials welcome the ship, which has a capacity of about 3,000 passengers and more than 1,000 crew.
"Having Carnival Cruise Line return to St. Croix is exceptional," Boschulte said, calling the visit "a great opportunity to continue showcasing St. Croix to people who have not been here before as well as those who will be returning after a long time."
Department of Tourism cultural greeters will be on hand at the Ann E. Abramson Pier in Frederiksted to welcome visitors, and vendors will offer complimentary samples of Virgin Islands creations to passengers – from body care products, local ice cream and desserts, fresh cane juice and coconut water and beverages from Leatherback Brewing Company and Mutiny Island Vodka. Live bands and steel pan music will permeate the atmosphere while the cruise ship is docked on St. Croix.
"We look forward to presenting to our guests what is uniquely from the Virgin Islands and what is quintessentially Crucian," Boschulte said.
Carnival Glory, which has been in service since 2003, is a Conquest-class cruise ship of 110,000 gross tons. It's 952 feet from fore to aft, and 116 feet wide at the beam.