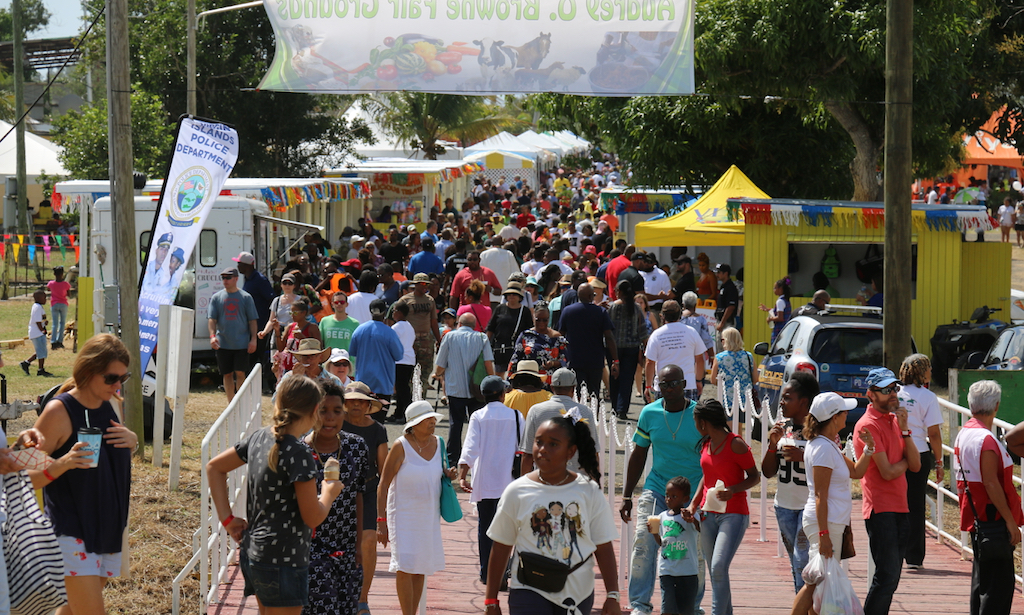 There is something to delight every man, woman and child at the 48th annual Virgin Islands Agriculture and Food Fair, called Agrifest, which opened Saturday and concludes Monday at the Rudolph Schulterbrandt Agricultural Complex on St. Croix.
On Saturday, Gov. Albert Bryan and other government officials officially opened the fair and announced Henry Schuster as the Livestock Farmer of the Year and Charles Burton the Crop Farmer of the Year.
This year's three-day event honors the late Audrey O. Browne, who worked at the Department of Agriculture for many years, always eager to help with a smile on her face. She was the go-to person at the fair.
On Sunday, pastor Walton Frederick of the Frederiksted Moravian Church led several dozen people in services and hymns in the morning.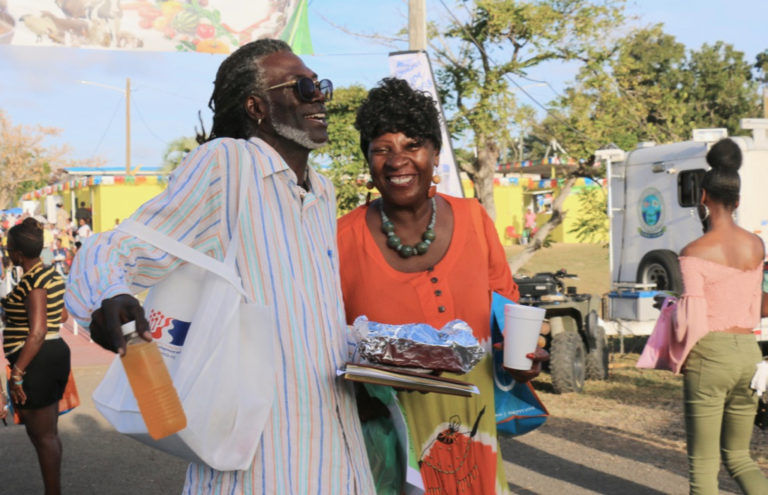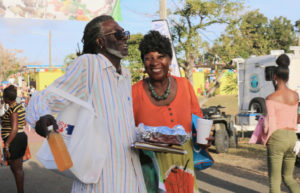 The first things to see at the fair are the vendor booths lining the walkway, with friendly faces selling their wares. Visitors enjoy clothing choices for men, women and children, with African, South American or Asian themes and fabrics. Booths with hand crafted leather goods, custom made T-shirts, fine woven baskets and locally made silver and gold jewelry draw big crowds.
Adults and children flock to the animal pens, where they can cuddle bunnies, chicks and baby ducks. The St. Croix Animal Welfare Center showcases pets available for adoption and, across the room, chickens and ducks sport pastel feathers or extra plumage on their legs. Show quality cattle, goats and sheep cluster in the outside pens away from the bright sun.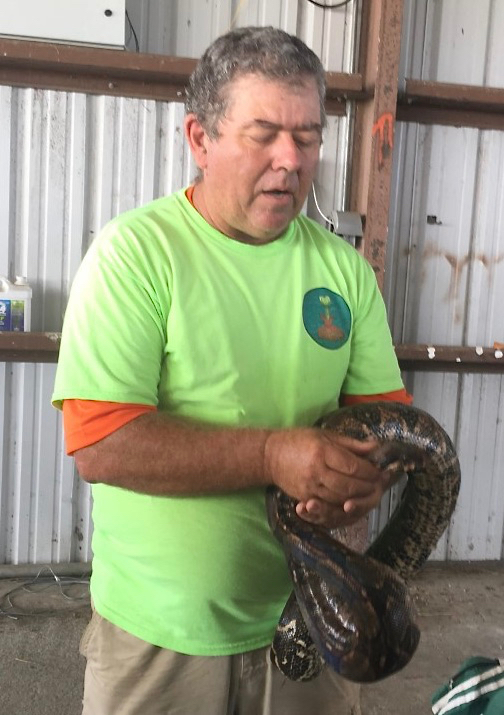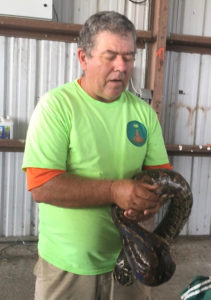 William Coles with the Department of Planning and Natural Resources Fish and Wildlife is displaying a five-foot long red tail boa and talking about the mysterious appearance of reptiles on the island. He has captured more than 150 on the island over the last few years.
The produce area attracts adults and some children who like frozen fruit juice bars, bananas, papaya and pineapples. The adults gather new flowering and fruit plants started by expert farmers and pack their shopping bags with tomatoes, cucumbers and spices such as fresh nutmeg and turmeric.
The Children's Museum and the Play and Learn Tent, sponsored by Lutheran Social Services of the Virgin Islands and the Community Foundation of the Virgin Islands, provide arts and crafts and other educational activities while parents take a break and watch their little ones create.
"We teach them how to have fun using science and technology," said Orresteen Reynolds, Play and Learn director.
Making slime is by far the kids' favorite activity, she added.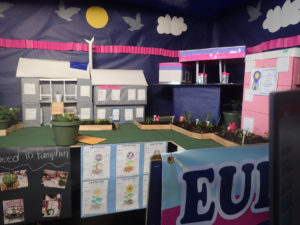 Schools and students have a big part to play in Agrifest. Some raise and display animals for 4-H Club and local schools compete, making displays that follow the theme for the year. This year's theme is "V.I. Agriculture: Still Growing in 2019," and Eulalie Rivera Elementary swept the competition with a first place presentation – created by the entire student body – a Senapol cow display constructed of recycled water bottles, made by first graders, and the shoe box float.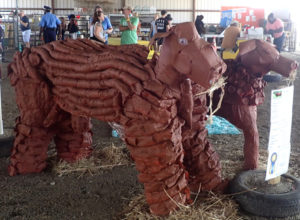 Anna Lafond, first-grade teacher at Rivera, managed the project and said all of the students participated enthusiastically because they want to replant the school garden that has become overgrown and unmanageable.
"They all really worked hard," she said.
According to Lafond, the University of the Virgin Islands has offered to cut the grass so they can till the soil, and Gov. Bryan said he will have lunch at the school to bring awareness to their project. So far, students have been able to plant and grow watermelon, tomatoes, cucumbers, and pumpkins the old-fashioned way, using seeds from produce they have consumed.
John H. Woodson Junior High won first place in their age group and were the sweepstakes runners-up. Sarah Dahl-Smith said the judges were very impressed with all the schools' projects even though there were fewer competitors this year.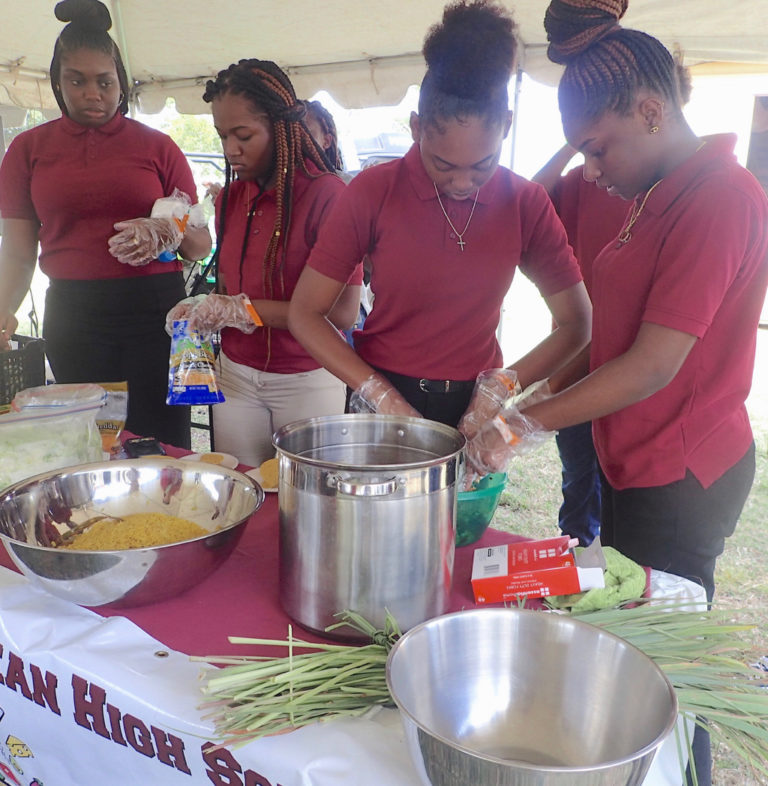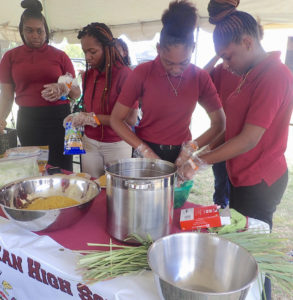 Students from Ivanna Eudora Kean High School and culinary instructor Kerish Robles also entertained with instructions on making tamarind stewed chicken tacos with lemon grass rice and tomato coulis. This is the third year Robles, a chef who said she is a "product of agriculture," has performed demonstrations with her students, using local ingredients to turn an ordinary recipe into something "extraordinary."
Assistant Agriculture Commissioner Errol Chichester said this year there was a lot of extra preparation due to the destruction by 2017's hurricanes. Gentlemen of Jones and APTIM, a company helping with hurricane rebuilding, built 32 small food booths and 14 larger booths on the fairgrounds. Chichester said the staff and volunteers worked hard with fewer resources and he was pleased there was less trash to clean up overnight.
"I'm delighted to say people are using the trash cans," he exclaimed.
According to Willard John, an Agrifest board member, more than 6,000 people attended Saturday's fair and 10,000 were expected Sunday. The fair continues Monday when many people attend to stock up for the week on rare and treasured food – saltfish pancakes, ducana, souse and roast pork.