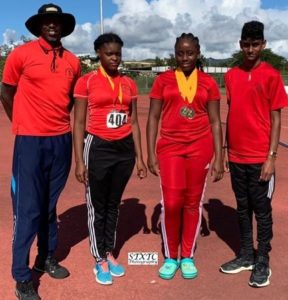 The St. Croix Track Club (STXTC) Mustangs is very proud of the admirable performances of its athletes in Caguas, Puerto Rico. Ariana Edgar, Alex Joseph and Anelia Austrie competed in the AAJI (ASOCIACIÓN DE ATLETISMO JUVENIL E INFANTIL) league on Saturday, Feb. 9.
Joseph was 15th overall in a time of 45.97sec. in the 300m. Austrie won gold in high jump in 1.50m and silver in triple jump in 9.80m. Edgar won gold in the shot put (11.48m) and discus throws (28.74m). Edgar's 11.48 surpasses the qualifying standard of 11 meters set by the Virgin Islands Track and Field Federation (VITFF) to compete in the CARIFTA games in Cayman Islands this year. Congratulations to these wonderful athletes!
The St. Croix Track Club is very proud of all its athletes as they continue to work hard in their classes and in Track and Field.
Please call Coach K. Smith at 277-1123 for inquiries. Full results can be found at: www.finallaptiming.com/AAJI/