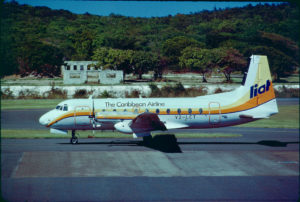 A jury on St. Croix awarded $1.5 million Tuesday to a 71-year-old former airline worker who complained he was forced out of his job because of age. The judgement was announced by Superior Court Judge Douglas Brady at the end of a two-day trial.
The plaintiff in the case had been on the job with Caribbean regional airline LIAT for 47 years. According to court documents, plaintiff William Cherubin was fired June 4, 2015. At the time airline managers accused him of violating company policy on three occasions.
But the lawyer handling the case said an investigation showed two of the incidents occurred several years before. The third, involving the acceptance of a customer's bad check, was resolved prior to March 2015 when Cherubin made a payment to cover the loss.
The probe into the circumstances surrounding the firing also revealed that four years earlier, LIAT approached employees age 62 and older, offering them retirement deals.
"In 2011, LIAT decided to replace some of its older employees. LIAT offered its employees over the age of 62, including Cherubin, a retirement package in exchange for their voluntary resignations. Cherubin's supervisors urged him to take the offer, telling him he was over the typical retirement age," according to the complaint filed when the case, William Cherubin v. LIAT, began.
But the employee decided he wanted to keep working, and declined the offer.
The year 2011 was also a hard financial year for LIAT. In an edition of the Antigua Observer published that year, LIAT Chief Financial Officer Julie Reifer-Jones said the company was in the midst of a two-year financial downturn.
To recoup, Reifer-Jones said, the company would seek to lower fuel costs and implement cut backs.
During his years at the regional carrier, the plaintiff rose from the job as a ticket agent to manager of ground operations. Attorney Vincent Colianni said it took the jury about an hour to conclude that LIAT violated the Virgin Islands Code, Chapter 10, Section 64, which prohibits an employer from discriminating against employees on the basis of age.
"Our client was an employee for 47 years. He was the station manager for operations on St. Croix and St. Thomas. He was fired in June 2015, allegedly for poor performance. And the jury determined the reasons for his termination were false," Colianni said.
Associate attorney Marina Leonard said the total amount of the judgement was $1,551,320.