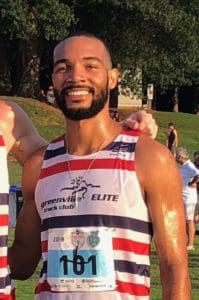 V.I. Marathoner Eduardo Garcia Zeroing In On Tokyo Olympic Qualification
Eduardo Garcia, a member of the V.I. U.S. Track and Field Federation ran a personal best and set a new U.S. Virgin Islands record in the marathon Sunday, posting a time of 2:18.50 in the Chevron Houston Marathon, putting him on path to the 2020 Olympics in Tokyo, the VITFF announced.
Garcia improved his time from his first marathon run in Rotterdam in 2017 of 2:25, which broke the V.I. record of 2:27 by Calvin Dallas.
Garcia's performance puts him at the number one position in the Caribbean, the top five in Central America and Caribbean, the top five in Pan America (the western hemisphere) and near the top 50 in the world, the track organization announced. He was a successful distance and cross-country runner at NCAA Division I powerhouse the University of Florida, where he and V.I. national teammate hurdler Eddie Lovett helped the Gators to several national championship titles.
Garcia switched from track to the road and set the Tokyo Olympics as his goal. Before the switch he finished fourth in the CAC Games in the 10,000 meters in 2014 in Vera Cruz, Mexico. He took a brief detour from his marathon preparation to represent the V.I. last summer in the CAC Games 10,000 meters in Barranquilla, where he finished eighth.
His road success followed with national records in the half-marathon, 10K and marathon, according to VITFF.
"I followed Eduardo's race online Sunday and was amazed at his per mile average," said Wallace Williams, VITFF general secretary. "He was running off sub-2:19 pace at 5 minutes and 24 seconds per mile after the first 5K, then for the next ten miles right as planned 2:19 pace at around 5:19 per mile; then at 15 and a half miles he was at 5:27 per mile. I thought, this is not good, and then the next 5K he got back on pace and what was really remarkable – he ran through the wall and dropped in a couple of 5:04 miles to get under 2:19 … exciting! What a great effort … we are so proud of him."
Garcia's plan now is to get back on the track for a short while in the late spring for speed work and as part of preparation for the Pan American Games marathon at which, given his performance in Houston, he has a very good chance to qualify. The marathon will be held in August in Lima, Peru.
Garcia expressed his excitement and thanked the Virgin Islands Olympic Committee U.S. and the V.I. Track and Field Federation for their support and to be able to represent his country successfully.