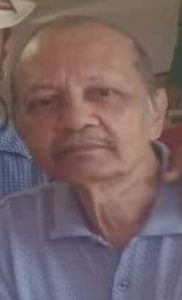 Boodram Jhingai, 73, affectionately known as "Ben," "Mr. Ideal" and "Jhingai," passed away on Sunday, Dec. 9, surrounded by his family, at his home in Orlando, Fla., after a lengthy battle with cancer.
Boodram Jhingai, a well-known businessman, served as a distinguished manager at the A.H. Riise Liquor Store for 25 years at both the Main Street and Havensight locations. He later went into business for himself and opened Ideal Restaurant, being the original owner for 20 years.
Boodram Jhingai is survived by his wife, Samdaye; daughters: Wendy Ali, Sherry Ann Berlow and Victoria (Vicky) Jhingai; sons: Ricky and Randy Jhingai; granddaughter, Apolonia Ali; brothers: Seeram and Chan Jhingai; sister, Mungree (Betty) Gobin; nieces: Sita Gobin, Annette and Reshma Jhingai; nephews: Ray, Roy, Ronnie and Roger Jhingai; and special friends: the Subdhan, Williams, Parker, Chaitoo, Berkett, Benjamin, Watlington, Connell, Ramkissoon, Seedoo and Magras families, as well as the A.H. Riise family.
A service will be held from 1-4 p.m., Monday, Dec. 17, at Newcomer East Orlando Chapel, 895 South Goldenrod Road, Orlando, Fla.
A memorial service will be held at 3 p.m., Saturday, Jan. 5, at John Brewers Beach, St. Thomas. Contact the family for more information at (340) 201-3205.