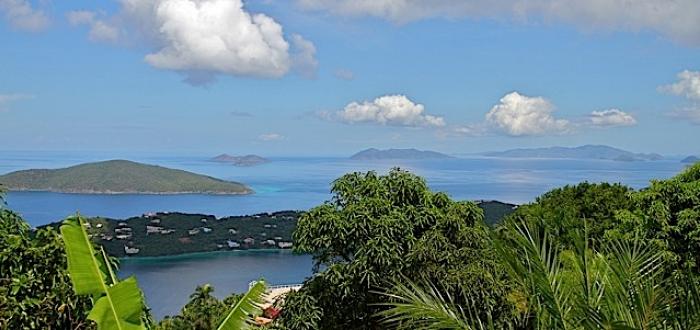 St. Thomas is a picture-taker's paradise. From lush foliage, turquoise bays, and the charming town of Charlotte Amalie, you'll discover plenty of amazing photography opportunities to capture and bring back home with you.
If you're putting together an itinerary for a St. Thomas photography trip, we've got a few suggestions for you to add to your list.
World Famous Mountain Top
If you're searching for a photo op with panoramic views, take an Open Air Safari to Mountain Top. From 1,500 feet above Magens Bay, you'll have sweeping views of St. Thomas and 15 other islands and cays. While you're there, you can try one of the refreshing banana daiquiris that Mountain Top is famous for.
Skyride to Paradise Point
From 700 feet above Charlotte Amalie, you'll have outstanding views of the town and the entire bay area. The short tram ride is one of the "must do" activities in the Caribbean, especially for photographers. Amazing photography opportunities abound, from the tram and Paradise Point.
St. Thomas Beaches
When in St. Thomas, taking advantage of the outstanding beach photography opportunities is a must. Each of the 40+ beaches offer breathtaking landscapes and seascapes, so you'll capture gorgeous photos wherever you go. Linquist Beach, Coki Point, Sapphire Beach, and Magens Bay are a few of our favorites.
Drake's Seat
If you're looking to capture the perfect sunrise, there's no better point on the island than Drake's Seat. Noted as one of the best lookouts on the island, this locale provides panoramic eastward views of Magens Bay, St. Croix, St. John, and the British Virgin Islands.
Paradise Point, Hull Bay, and Red Hook
Capture breathtaking sunsets from Paradise Point, Hull Bay, and the marina in Red Hook. Some say that, with the way the sun sets behind the marina, the boats have a certain glow that makes for magical photographs.
Virgin Islands Ecotours
If you have the necessary gear, bring your camera with you on one of these top-rated nature tours. While you kayak, hike, and snorkel, you'll see mangrove estuaries, tropical fish, egrets, nurse sharks, and so much more. There are also bird sanctuaries, wildlife refuges, and other nature-based locations for you to capture the perfect shot.