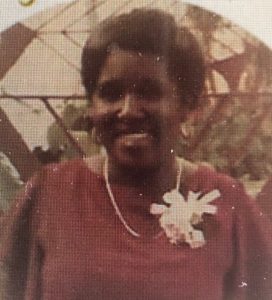 Gloria Virginia Frederick of Smith Bay, St. Thomas, died on Friday, Nov. 23, at Roy Schneider Regional Medical Center. Gloria formerly lived in Estate Tutu Valley, and in her earlier years she lived in Frenchtown.
She was preceded in death by her mother, Valderia E. Petersen-Thompson (also known as "Ms. Val of Frenchtown") and Alfredo Pedrito Boynes. At the time of her passing, Gloria was 75 years young.
She worked for the Department of Education until her retirement in September 2000. She began her career in education at the Charlotte Amalie High School, where she was a custodial technician for many years before moving to School Bus Transportation System until her retirement. Gloria also ventured into gypsy taxiing! Her place of business was the Pueblo Supermarket located at Four Winds.
Gloria was family-oriented and frequently enjoyed conversing with family and friends on the telephone. She will be missed.
Gloria is survived by her loving husband, Llewellyn (Peter) Frederick; daughters: Luz M. Rivera Swan and Laura Jacobs; sons: Louis and Lawrence LaPlace; brothers: Melvin Boynes, Austin Boynes and Alvin Boynes; nieces: Elizabeth Boyles and Beverly Williams; grandsons: Sidney J. Swan III, Sergio J. Swan, Julian, Lawrence Andrea, Lucas LaPlace and Lorenzo LaPlace; and granddaughters: Sidonia J. Swan, Rehalina, Lynette LaPlace, Leia LaPlace Matthew, Lisette LaPlace Dovy, A'Laura Elmes and Auset Ragguette.
She is also survived by great-grandchildren: Sidney J. Swan, IV, Andrea LaPlace, Rhalina Fleming, Rheanna LaPlace, Alanna Ramon, Llana LaPlace-Bertrand, Chaleia LaPlace-Matthew, Naveen Dovy, Iliana LaPlace, Ilyssa Brooks, Ilya Brooks, Anema Gloryset Edwards, Alluren Edwards and Avin Llewellyn Antoine]. Gloria's in-laws included: Cynthia Frederick, Aiden Frederick, Erica Frederick, Pearl Boynes, Soyla V. Boynes, Rose Boynes, Lucy LaPlace, Felacita LaPlace, Carema Swan, Sidney J. Swan Jr., Charles Matthew, Marvin Dovy and Nestor F. Ramon Jr.
Gloria's special family and friends include: Beverly Williams, Elizabeth Boyles, Janette Crump, Mr. and Mrs. Alvin Joseph, Mary Williams Archibald, the family of the late Leone I. Brunn Hendrickson, and Ronnie Hunt (Ms. Lelia Felix).
Gloria is also survived by many nieces, nephews and other family members too numerous to mention.
A first viewing is scheduled for 5-7 p.m., Sunday, Dec. 9, at the Celestial Chapel of the Dan Hurley Home for Funerals.
On Monday, Dec. 10, family and friends will gather at the Holy Family Catholic Church in Tutu for a second viewing at 9 a.m. followed by a Mass at 10 a.m. Interment services will be at Western Cemetery No. 3.
Arrangements are under the care of Dan Hurley Home for Funerals and Cremation Center of St. Thomas, St. John and St. Croix
For online directions and condolences. please visit www.hurleydavisfuneralhome.com