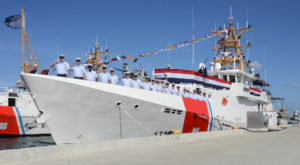 Mohamed Hoseain, age 70, and Richard La Cruz, age 51, both of Guyana, pleaded guilty Nov. 28 in federal court on St. Croix to possession of cocaine on board a vessel, U.S. Attorney Gretchen C.F. Shappert announced Monday.
Two of their fellow countrymen, Neville Jeffrey, age 66, and Mark Anthony Williams, age 32, pleaded guilty on Nov. 29 and Dec. 3, respectively, in federal court to the same offense, Shappert added.
According to plea agreements filed with the court, on Feb. 16, 2017, the U.S. Coast Guard Cutter Napier, in a joint operation with the Trinidad and Tobago Coast Guard, intercepted a suspicious vessel approximately 70 nautical miles north of Paramaribo, Suriname, in international waters. The vessel, later identified as Lady Michelle, was located in a known drug trafficking route and registered with St. Vincent and the Grenadines.
U.S. Coast Guardsmen boarded the vessel pursuant to a bilateral agreement between the United States and St. Vincent and the Grenadines. They discovered 185 bales containing numerous rectangular shaped packages of cocaine in the vessel's fish hold. The cocaine weighed 3,769 kilograms and had a street value in the U.S. Virgin Islands of approximately $71 million.
Hoseain was identified as the captain and claimed that they were in search of a missing vessel for two months. La Cruz was identified as the engineer and Jeffrey and Williams as crew members.
Hoseain, La Cruz, Jeffrey and Williams face up to life imprisonment for the offense and a fine of up to $10 million.
Sentencing dates for Hoseain and La Cruz have been set for March 28 and March 29 respectively. Sentencing for Jeffrey and Williams is set for April 3.
The case was investigated by the U.S. Coast Guard, the Trinidad and Tobago Coast Guard and the U.S. Drug Enforcement Administration. It is being prosecuted by Assistant U.S. Attorney Alphonso Andrews, Jr.