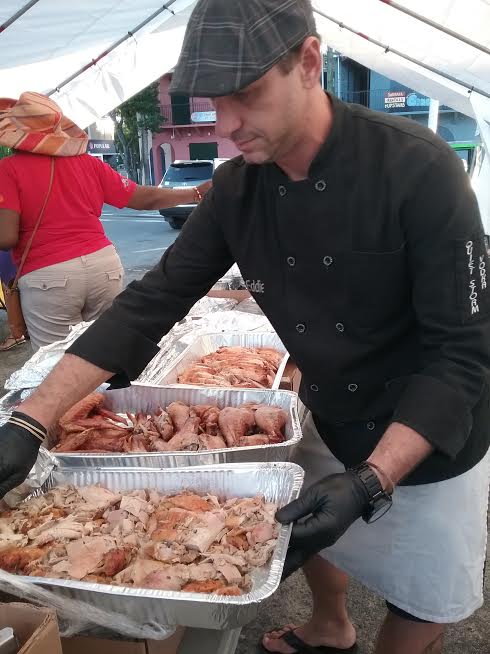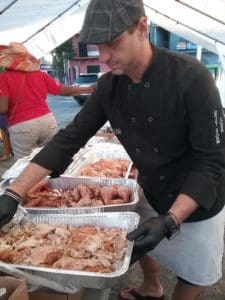 Two St. John non-profit organizations welcomed the public to a free Thanksgiving feast Thursday in Franklin Powell Park. The event, called Thanksgiving in the Park, was a gesture of continuing gratitude, one year after the passage of two catastrophic hurricanes.
It was also an opportunity to reflect on how far the island community has come, one year and seven weeks after the passage of Hurricanes Irma and Maria. In 2017, St. John Rotary and the St. John Community Foundation recruited local businesses and the kitchens of functional homes to produce a feast that fed 700 people. This year, a more modest feast was served to residents, visitors and the less fortunate by Rotarians and an eager team of volunteers.
Together they welcomed the public and treated them to plates of roast turkey with seasoned rice, macaroni and cheese, potato stuffing, creamy mashed potatoes and vegetables. A group of young pan players entertained the crowd, followed by a deejay.
Former League of Women Voters President Erva Denham beamed as she spoke of her early morning foray into the kitchen to roast two turkeys and prepare them for delivery. She showed up later in the afternoon, dressed in a smile and a cornflower blue print dress, admiring the scene.
"I did two turkeys with gravy last year, too," Denham said. By then, Cruz Bay had just gotten power back for the first time. Refrigeration was out of the question for many residents and a community feast was a practical solution.
Resourcefulness was key then, as now. Chef Eddie Wilson proudly displayed some of the eight birds he turned into juicy slices of seasoned meat in two hours, thanks to the kitchen at Gifft Hill School and a visit to the school's herb garden.
"The flavor's in the bird," he said. "I want you to taste the turkey."
With that, he handed over a slice of nicely browned skin, made succulent with help from the thyme, basil, rosemary, lemongrass and sage found on the school grounds.
And a basting of butter, he said.
Guests queued up almost immediately. Many took seats in the park and stayed to hear tunes from the Love City Pan Dragons.
Server Lisbeth Boger made Thursday's feast into a day of service for the second time. She recalled the circumstances of Thanksgiving on St. John, 2017.
"We had a lot more people because we didn't have electricity or kitchens. I felt like it was a love feast. I remember being really happy to say Happy Thanksgiving to everyone I served," Boger said.
The newly elected governor, Albert Bryan also showed up, fresh from Tuesday's runoff election where he beat incumbent Gov. Kenneth Mapp. Photographers snapped their shutters as Bryan donned a pair of disposable gloves and joined the serving line.
The governor-elect said he was glad to spend time on St. John and had gotten his first long sleep since wrapping up the campaign.
"I got at least four hours rest, and waking up on St. John is a pleasure," he said.
A few feet away, Starfish Market General Manager Frank LaVerde chatted with a friend. A few moments earlier the store's delivery truck pulled up and dropped off hot side dishes.
Asked how his Thanksgiving day was going, he smiled. "How do I like my Thanksgiving? I'm here. I love it here. I like being around people. This is wonderful," he said.
Rotarian Barbara Harris said putting together the elements for this year's feast was more challenging than it was the year before. Some of the businesses that freely pitched in after the hurricane were still in recovery themselves.
Twenty-eighteen will probably be the last Thanksgiving in the Park, according to organizers who say they plan to resume their annual Flavors scholarship fundraiser around this time next year.
Editor's note: This story has been edited to correct the name of one of the organizing groups to St. John Community Foundation. The Source regrets the error.