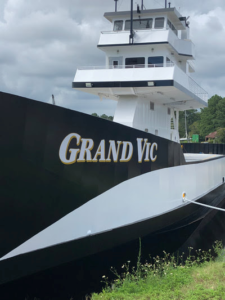 The Motor Vessel Grand Vic, owned and operated by Love City Car Ferries Inc., arrived in the Virgin Islands late on Monday evening, Nov. 12. This vessel was built by Steiner Shipyard in Mobile, Alabama. The process to get it to completion was an uphill battle; nevertheless, the company persevered.
The Love City Car Ferries Inc. Board thanks the attorneys and staff at Dudley Topper & Feuerzeig LLP, without whom it would have failed multiple times. Special thanks to attorney Kurt Petri and attorney Gregory Hodges. In addition, thanks to the crew who brought the Grand Vic down.
The Motor Vessel Grand Vic is dedicated to the people of the Virgin Islands, and, as such, the Love City Ferries Board thanks it for its patience and understanding. More importantly, it thanks the Love City Car Ferries Inc. staff for working tirelessly. We know that the front lines are a tough place to be, especially when having to encounter angry customers who are tired of waiting in long lines.