In less than three decades, scientific diving at the University of the Virgin Islands has grown from a small program that taught students how to dive to a globally competitive marine science research engine.
In 2017 UVI's marine science program ranked first in dives beyond 100 feet and first in total decompression dives.
Based on 2017 statistics compiled by the American Academy of Underwater Sciences, an organization that oversees research diving around the world, UVI divers completed 471 dives beyond 100 feet and 358 decompression dives, which are dives that require stops coming back up to avoid sickness. Of the 143 AAUS member institutions, the university ranked 13th in total dives with 2,247.
Those rankings are impressive for a number of reasons. Among the AAUS's top 15 programs in 2017, UVI is tied for the smallest with just 40 divers. The next smallest in the top 15 has 60 divers, which means that UVI's students and researchers are doing more dives per person. Not to mention last year's back-to-back storms, which kept the program members from diving in September and October, and limited their capacity once they could get back in the water.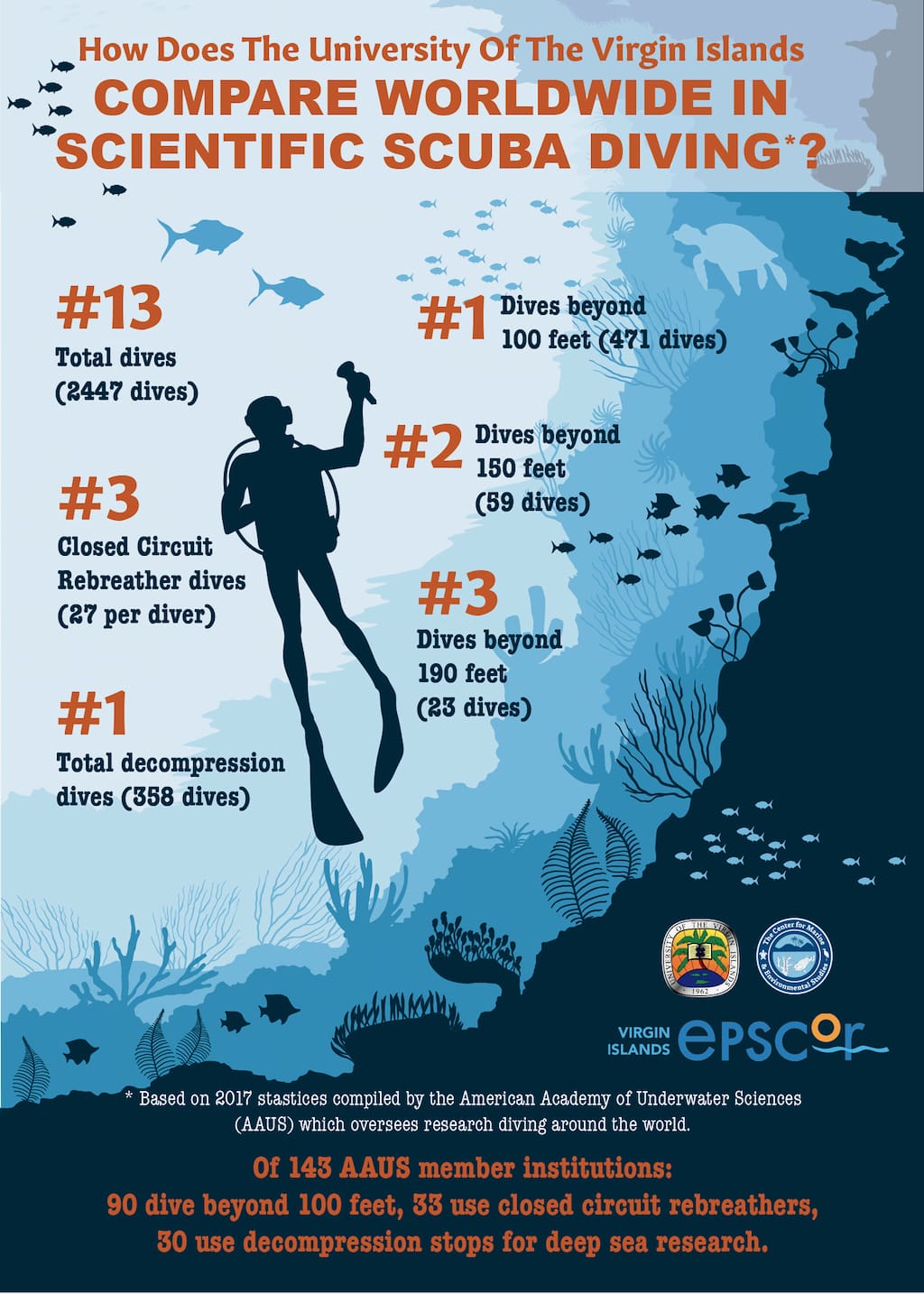 Viktor Brandtneris, UVI's technical dive assistant, studies the territory's deep coral reef systems and hopes that the program's 2018 dive numbers are as prolific as last year's. Hurricane damage to the program's research facility on Brewers Bay and to a research vessel has slowed the program a little, and so has rough weather, but their numbers are on track to compare with 2017.
"Regardless of the numbers for 2018, I think the fact that our team has kept the deep diving program going strong through such a difficult time is a testament to our dedication to the program at UVI," Brandtneris says.
UVI has moved up in the scientific dive rankings quickly in part because its access to the ocean. The waters surrounding the Virgin Islands are full of expansive, unique deep reefs to study. While the program might be comparatively small, researchers take the opportunity to dive on good weather days, and support staff make sure equipment and boats are always ready to use.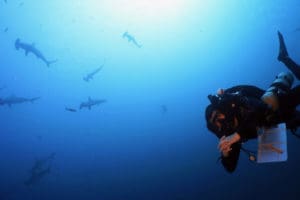 Access to funding also plays a tremendous role in the program's success. Tyler B. Smith, associate research professor of marine science at UVI, says that infrastructure support from the Virgin Islands Established Program to Stimulate Competitive Research and (VI EPSCoR) and private foundations is crucial.
"Their support allowed us to gather the unique data that made the world take notice of the science possibilities from studies in the U.S. Virgin Islands," Smith says.
High-level technical diving is necessary to study the territory's abundant deep reefs. Smith and Brandtneris say these reefs hold great promise, since large reefs at those depths are much healthier than shallow ones. Researchers call reefs below 100 feet "mesophotic."
"We're looking for coral ecosystems living at the edge of where they're 'supposed' to be. Reefs surviving at the edge of where we think they should be hold hope for corals in an increasingly stressful ocean," Brandtneris says.
According to Smith, the area of reefs at mesophotic depths in the Virgin Islands is more than double that of those in shallow water. These habitats are ideal for fishes and invertebrates like the spiny lobster.
"We estimate that one species of star coral, which is listed as threatened on the U.S. Endangered Species List, may have a population in mesophotic reefs in the USVI of 100s of millions of colonies,' Smith said.
These deep reefs are also the backbone of the territory's commercial fishing industry.
"Around St. Thomas and St. John the majority of the commercial trap fishery is focused on mesophotic habitat, truly making it the ocean bread-basket for the northern USVI," Smith explains.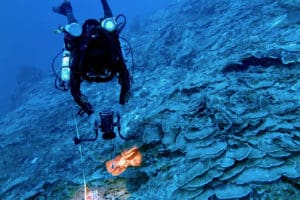 Stephen Prosterman, UVI's dive safety officer, has been involved in the program since its infancy in the late 1980s. In the beginning, the program was much more basic, teaching students how to dive and how diving could be used for research.
When Rick Nemeth joined the faculty as a professor of marine biology in the late 1990s, the program really took off, Prosterman says. The university joined the American Association of Underwater Sciences in 2008, which allowed for more research diving collaborations with other institutions.
"In the years since, our diving has grown exponentially. We did right around to 2,500 research dives this past year. When Rick Nemeth first got here it was around 50 – quite an increase over the past 20 years," Prosterman says.
Top researchers at UVI receive technical training and earn certifications that go beyond recreational diving. This level of technical diving requires divers to "decompress" before coming to the surface, in order to let the nitrogen gas they breathe while underwater slowly come out of their bodies to avoid getting sick.
UVI divers also use special equipment called rebreathers to allow them to stay at deeper depths for longer. Prosterman explains that these devices recirculate the gas divers breathe and scrub out the carbon dioxide and then recirculate the mix so he or she can breathe it again. Oxygen and diluting gas will be added by a computer as needed to give the diver the right mix.
Rebreathers are good for four hours at 30 feet, or 25 minutes at 330 feet with 215 minutes of decompression. And, unlike typical scuba diving, the diver isn't blowing out bubbles to discharge used air, since that air is being reused.
"Diving with a rebreather and not blowing bubbles is a completely different experience, since you're silent and you can hear the reef making noises and fish aren't as afraid of you," Brandtneris says.
Sometimes fish not fearing you can be scary. Smith recalls being charged by an aggressive blue marlin and not being able to swim away, since he was in the process of decompressing. And, Brandtneris vividly remembers the haunting green eyes – likely those of a shark – that followed him while he was doing a dive at dusk, the best time to study grouper spawning.
Since most people will never dive this deep even if they do scuba dive, UVI's research divers are always looking for ways to share their findings about the territory's rich coral reefs with the community.
Those interested in learning more about the program can follow "VI-EPSCoR" on Facebook and Instagram. The program will soon partner with the Red Hook Dive Center to give recreational divers a chance to check out UVI's coral nursery and learn from graduate students and faculty as a part of its Coral Restoration and Adventure Diving Expeditions. Children can look into Youth Ocean Explorers events and programs too.