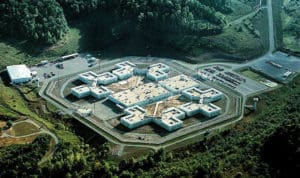 Several days into an investigation into the living conditions of Virgin Islands prisoners, Attorney General Claude Walker said he had little to say about it. However he admitted the probe began with the publishing of a letter from one of those prisoners.
But because Walker chose to limit remarks about the off-island prisoners, it was hard to determine if the investigation will extend to the 202 V.I. inmates now serving time in Florida, Mississippi, South Carolina and Virginia.
In his letter, inmate Hector Ledesma recounted his placement in solitary confinement after being transferred to Red Onion State Prison. Conditions at Red Onion have been the subject of an HBO documentary and articles in Variety Magazine and the Washington Post.
The 2016 Post article described the supermax as "Virginia's toughest prison," designed to manage inmates who are exceptionally dangerous or resist discipline.
When asked when the inquiry began, Walker said, "a few weeks ago."
But the AG added few details after that.
"I do not have anything to share with you at this time, as it is an investigation," he said.
Prior to that move, Ledesma served a portion of his 13 year, 9 month term at Golden Grove Adult Correctional Facility on St. Croix and Citrus County Detention Facility in Lecanto, Florida.
He was convicted of aggravated rape at age 18, charged with having sex with a 12-year-old minor on St. Croix. The penalty handed down in 2004 was 15 years with no parole.
Since then Ledesma has appealed his case, based on a change in a witness statement. But the appeal was rejected by the U.S. District Appellate Court in 2009 and also rejected upon review by the V.I. Superior Court in 2016.
Attorney Kele Onyejekwe, a territorial public defender who handles appellate cases, had represented Ledesma in his legal challenges. Onyejekwe said his client gave permission for him to discuss his case.
Conditions at the different jails and prisons serving at off island detention centers vary. Run privately by the Corrections Corporation of America, Citrus County is described as multi jurisdiction facility, housing inmates from the county, the U.S. Virgin Islands Department of Justice and the U.S. Marshal Service.
The Florida jail boasts a Facebook page and invites visitors to check in advance to see if inmates can receive guests. They also boast about civic awards won by the staff and civic engagement, including participation in the local walk-a-thon.
Those conditions stand in sharp contrast with Ledesma's published account of being escorted to a fetid cell at Red Onion and ordered to hand over his clothes before being locked down in solitary with little food or water.
Red Onion, and another Virginia prison housing Virgin Islanders – Keen Mountain Correctional Facility – were built 30 years ago with dedicated wings for solitary confinement. According to accounts online, one of the offenses that can send an inmate into an indefinite 23-hour lockdown is wearing dreadlocks.
An inmate's refusal to cut his hair has led to solidary confinement, with a promise of return to the general population upon compliance.
Another Virginia prison housing Virgin Islanders is Wallens Ridge State Prison in Big Stone Gap, Virginia. According to information shared online, Wallens Ridge was deliberately overbuilt to allow other states to relieve inmate overcrowding.
Tallahatchie County Correctional Facility in Tutwiler, Mississippi, makes similar accommodations. Transferred inmates from Vermont join Virgin Islanders and others at this private prison, run by the same entity as Citrus County Detention Center.
Female inmates from the Virgin Islands are kept in a prison where the Legal Aid Justice Center has filed a federal lawsuit. Advocates said three inmates died at the Fluvanna County Correctional Center for Women because of inadequate health care. This in spite of a 2016 court order to upgrate the health care system.
Reducing the prisoner population at Golden Grove has been one of the strategies used over the years as the V.I. government grapples with meeting the terms of a 32-year-old federal consent decree.
Bureau of Corrections Public Information Officer Irving Julian said there are 56 inmates in Virginia, 66 in Mississippi, 85 in Florida and one in South Carolina. The last group to leave the territory left after the passage of Hurricanes Irma and Maria in September 2017. But Julian could not say how many inmates left in the 2017 group.
When asked if the court-appointed special master overseeing the management of Golden Grove has ever asked about the status of V.I. prisoners moved off island, the attorney general said, "No."