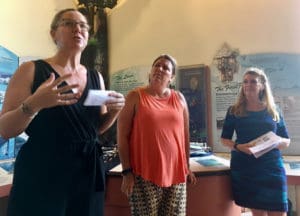 A program to help St. John seniors repair their roofs damaged by Hurricane Irma is evolving into a more robust program to help the most vulnerable residents on St. John rebuild their homes.
"We're doing full rebuilds – something other programs couldn't touch," said Heidi Arnold, housing construction chair of St. John's new Resilient Housing Initiative. Up to 74 percent of low and middle-income residential structures on St. John were damaged, according to a media brief published by Love City Strong, a non-profit organization that was formed in response to the hurricane and is collaborating with the new program.
The Resilient Housing Initiative was announced at the monthly meeting of St. John's Long Term Recovery Team held Thursday evening at the Virgin Islands National Park Visitors Center.
"Although there has been a substantial amount of federal aid and public assistance dispersed to residents throughout the territory, navigating these complicated systems is an arduous and difficult task for the most vulnerable of St. John residents, and qualified contractors on island are limited," said Meaghan Enright, director of Love City Strong. "As a result, a large number of seniors, low-income individuals, and homebound individuals have given up, unwilling or unable to appeal the public assistance decisions."
The Resilient Housing Initiative is divided into three phases. In the first phase, disaster caseworkers working with St. John Angels/Long Term Recovery Team evaluate applicants to identify the amount of assistance they have already received and determine their eligibility for further funding.
In the second phase, RHI team members assist the homeowners with construction planning and permitting; they search out donated materials, sources of funding, and then schedule construction.
In the third phase, when construction is implemented, RHI team members work with government agencies and funding sources to make sure the work is in compliance with their guidelines.
The entire process involves partnering with multiple work groups within the St. John Angels/ Long Term Recovery Team, including the Disaster Case Management Group, the Housing and Construction Group, and the Resources and Donations Management Group, all of which function under the oversight of the St. John Community Foundation.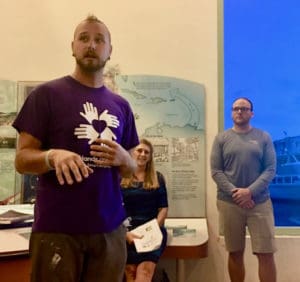 The Resilient Housing Initiative also includes members of the private sector, such as St. John contractor Lanny Roberts of Blue Bay Construction; community organizations such as Love City Strong; philanthropic organizations, including Kenny Chesney's Love for Love City and the Bloomberg Group; and volunteers from NGO's like All Hands and Hearts – Smart Response.
As of April, the roofing program had approved construction funding for four homes and had nine permits in the works. As of September, it now has six reconstruction projects underway involving rebuilding roofs, interior walls, and cabinets. Another is almost complete.
Arnold told the audience at Thursday's meeting that RHI has completed assessments of 21 homes and was in the process of ordering materials for their repair; 34 other properties have been vetted, and 91 homes are in the queue for assistance.
Jon Griswold of All Hands and Hearts, locally known as "the purple shirts," said his crews were still involved in the "muck and gut" clean-up work and were now doing construction as well. On St. John, they've formed two interior rebuild crews (with a third being planned) in addition to having a roofing crew. All Hands on St. John has about 25 volunteers in addition to two supervisors.
Shared content for Virgin Islands Source and St. John Tradewinds.