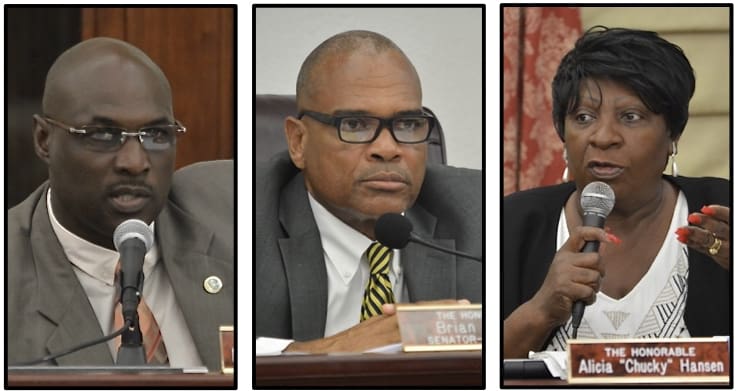 The no-show of Virgin Islands Port Authority Director David Mapp at a Senate committee hearing Thursday led to a contentious exchange between lawmakers and barely-veiled accusations of cowing to the Mapp administration.
Mapp, brother of Gov. Kenneth Mapp, failed to appear when requested to by Senator-at-Large Brian Smith, who chairs the Senate Committee on Homeland Security, Justice and Public Safety. The VIPA director was scheduled to give lawmakers an overview of the $1.4 million penalty levied by the Federal Aviation Administration against the agency for failure to meet federal standards on port safety and hazard mitigation.
Mapp also failed to appear before the Senate Finance Committee on Monday but sent Damian Cartwright, assistant executive director at VIPA, to speak on his behalf. Cartwright indicated that Mapp was attending a sea-trade conference in Europe. On Thursday, however, no correspondence arrived from Port Authority regarding Mapp's absence.
According to Smith, his staff delivered the invitation dated Sept. 6 to Port Authority, where it was signed for by a member of Port Authority staff. Sen. Novelle Francis (D-STX) asked Smith if, given Mapp's absence on Monday, his staff made any effort to follow up to ensure a testifier would be present. Smith responded that when official correspondence has been sent, such contact was not necessary.
"To me, he had more than one opportunity to report to these meetings, and he didn't report," said Smith. "To me, that's a lot of disrespect to this body, being the first branch of government. It's a lot of disrespect to the people of the Virgin Islands."
Smith added that Mapp could not simply keep passing on the responsibility of appearing before the Senate to his deputies, who could have also substituted for him in the conferences that prevented him from coming to senate hearings.
Francis disagreed.
"I prefer not to have this discourse in public but at this time, I believe that we have the responsibility as the committee to ensure that there will be a representative here," said Francis. "I believe we need to make an informed decision based on credible information whether or not the office of the executive director received notice and if in fact there was some correspondence sent back to us."
Sen. Dwayne DeGraff (D-STT) agreed with Francis, asking if Smith wanted to issue a subpoena. Sen. Alicia Hansen (I-STX), however, defended Smith and the institution.
"We have to respect our House," said Hansen, an outgoing senator, adding that lawmakers should believe the chairman's information to be credible until proven otherwise.
"I will not join in in the doubt that your office may not have done a good job in the procedure, which to me, what was explained is sufficient," Hansen told Smith, adding that the burden falls on the Port Authority to respond to the correspondence.
'Why don't you all just say it's the governor's brother and done? And you all don't want to subpoena the governor's brother?" she said to the chamber.
Hansen also drew attention to the "deplorable conditions" that employees and tourists are subjected to at the Cyril E. King Airport, citing the lack of air conditioning and hazardous ceilings.
"We have all these penalties and seems like the governor is in denial because he keeps saying he's modernizing the airports, so we want to know which airports is he talking about," said Hansen.
Sen. Positive T.A. Nelson (ICM-STX) also held the Port Authority director accountable for the mishap but also hinted at "cohorts of the governor" who are "trying to hide your hand."
"You see the darkness and the animosity intensifying here, the threats to fight," Nelson said. "For my 14 years, this is the worst it's been, the name-calling, the grandstanding, the things being said, the ridiculing of people and the disrespect to the very central staff, the things being said in order to justify a position."
The senate committee eventually voted to subpoena Mapp to a later hearing, with Smith, DeGraff, Forde, Sarauw, Hansen and Nelson voting yes. Francis voted against.
Real ID
Lawmakers also heard from Bureau of Motor Vehicles Director Lawrence Olive on the status of the Real ID implementation. According to Olive, Real IDs, which can be used by their bearers for travel and as federal identification, are scheduled to roll out on Oct. 10.
BMV officials said that they have all the needed components on St. Croix. On St. Thomas, however, the Bureau stated that the facility still needs to reinforce the room where the Real IDs will be printed. Olive, however, said he is confident that the Real ID implementation, the deadline for which was extended to 2018, will proceed as scheduled.