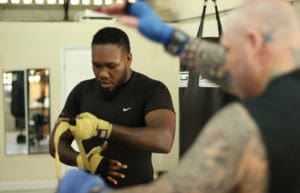 For the first time in months, V.I. heavyweight boxer Clayton Laurent, Jr. took Tuesday morning off.
He still had to work, hauling cargo for his trucking business, and make a trip to the doctor. But unlike every day for the past eight weeks, his daily routine didn't include putting hours in at the gym, prepping with his coach for the fight on Saturday night that he's been looking forward to for more than a year.
"This week, it's about fine tuning," the 28 year-old, V.I. native said. "I'd be ridiculous to think that after a year out of the ring, I'd be able to get back in and take everything in one shot. The past weeks has been my time to strengthen, to work on my strategy, and to get myself in peak condition for what's coming. And today, well, today I have to pack, and get ready to take the next step toward making my dreams come true."
Last year, the 2016 Olympian kicked off his professional career with a bout at the Mark C. Marin Center at Antilles School, and it didn't take long for him to show his hometown crowd what he's made of. At 1:59 into the second round, Laurent dealt opponent Wayman "The Slim Reaper" Carter a blow to the head that kept him down on the canvas and gave Laurent his first professional KO.
Since then, Laurent has celebrated a series of personal accomplishments – recovering from two hurricanes, getting married, and starting his own trucking business – but a recent deal inked with New York based boxing powerhouse DiBella Entertainment has put him back onto the professional track.
With a potential five bouts promised over the next 12 months, Laurent's first with his new promoter is Saturday at the Barclays Center in Brooklyn, New York, as a part of the undercard for the highly anticipated vacant WBC welterweight world championship fight between Danny Garcia (34-1-0, 20 KOs) and Shawn Porter (28-2-1, 17 KOs.)
Saturday's booking pits Laurent against Sherman Artis, Jr. (3-2,) a 6-foot heavyweight from Severn, Maryland, who promoter Lou DiBella said is looking to "bounce back in the win column following a hard-fought four-round decision loss" to Iegor Plevako last November.
"We're both coming in with a goal in mind," Laurent said Tuesday. "He's coming off a loss, so his goal is to win and my goal is to make sure that doesn't happen."
While the title fight and two others are being televised on Showtime cable, the undercard is being streamed on Showtime Boxing's YouTube channel and Facebook page.
Speaking on NBC Sports this week, DiBella touted the entire fight card, saying that "punches are going be thrown, and there will be action from the beginning to the end." Speaking Tuesday, Laurent said he feels the same about his own bout.
"If I have the opportunity for a knockout, I'll take it," he said. "But really, my strategy is to maximize my time in the ring, to pace myself, and to make what I do count. My opponent is crafty, he's a smart fighter and he's going to try and capitalize on my mistakes. I have to be smart, too, I have to be patient and set up good shots. I'm going to use my jab, let that set up the right combinations, and then just take my time. I'll get there."