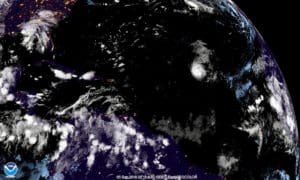 Hurricane Florence has continued to grow in strength but is not believed to pose any threat to land, but a broad low pressure system have moved off the coast of Africa and is given an 80 percent chance of tropical development in the next five days.
According to the 5 p.m. Tuesday update from the National Hurricane Center, the new system is a few hundred miles south of the Cabo Verde Islands and forecast to move slowly westward to west-northwestward across the eastern tropical Atlantic for the next several days. Environmental conditions are expected to gradually become more conducive for development, and a tropical depression is likely to form by late this week or this weekend.
Meanwhile, Florence continues to gain strength, despite being over marginally warm water and in an environment of moderate west-southwesterly shear. The hurricane has a cloud-filled eye in
visible imagery, and the central dense overcast is becoming more symmetric.The official forecast calls for Florence to strengthen just a little more during the next six to 12 hours.
Even though the hurricane will move over progressively warmer waters, the forecasters said, increasing vertical shear and dry air in the middle levels of the atmosphere should induce some weakening. But lower shear after 72 hours will likely allow Florence to regain hurricane strength by the end of the forecast period.
Florence remains on a west-northwestward course at 10 knots, or nautical miles per hour. This trajectory is expected to continue through Wednesday when the storm is expected to turn northwestward and slow down as it enters a break in the ridge, taking it out of the range of the Caribbean.
Shared content for Virgin Islands Source and St. John Tradewinds.