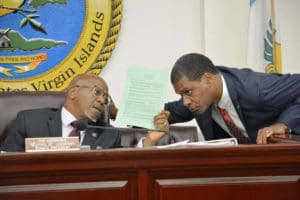 The Legislature approved four Coastal Zone Management permits during a busy session Friday. Three allow owners to keep using structures originally approved as long ago as 60 years and as recently as 20-plus years and one, for a floating dock in Cruz Bay, was new.
Minor CZM permits, which cover developments valued at less than $66,000, do not require public hearings by the Coastal Zone Management Commission within the Department of Planning and Natural Resources. But they do require approval by the full Legislature. The Rules and Judiciary Committee had a hearing on the three renewals and one new permit earlier in August and sent them on to the full body for a final vote.
The new permit is for Low Key Watersports to install a 70-foot by 6-foot floating dock between two dive boats it has moored at Cruz Bay. The dock will will be used to board passengers who need special assistance. There will be no dredging or filling related to the project, and the removable floating dock will be anchored to the seafloor with sand screws.
The permit is for 15 years, paying $500 per year for the first five years.
The Legislature voted to renew a CZM permit for continued use and occupancy of a 50-foot dock built in 1985 near a private residence in Fish Bay.
Senators also approved the continued use and occupancy of a 100-foot dock built in the 1950s, along with 6,500-foot of submerged lands surrounding the dock seaward of Lovango Cay. The dock belongs to the Joseph John Markus Trust but is used by other residents too. It has been used as an access point to the cay since the 1950s.
And they approved continued use of a 12-foot-by-12-foot swim platform operated by Gallows Point Resort, as well as a 60-foot access walkway and three swim buoys. The swim platform has been there since the 1990's and is removed every year for hurricane season, according to testimony given when the permit was considered in committee recently.
Zoning actions
Senators voted to approve one rezoning and one use variance.
They voted to rezone Parcel No. 48 Estate Thomas, No. 6A New Quarter, St. Thomas, Virgin Islands, from R-2 (Residential-Low Density-One and Two Family) to B-1 (Business-Central Business District)
JRS Holdings LLC owns the property, which is northwest of Paragon Medical Building. When the request was heard in committee, Jerry Smith of JRS Holdings told senators he wants to build what a $6- to $10-million mixed-use development consisting of medical offices, retail stores, a wellness center, and residential units for primarily short-term patients seeking medical treatment.
The use variance would let V.I. Christian Ministries convert a bowling alley at Parcel No. 105 Remainder Estate Bolongo Bay, No. 3 Frenchman's Bay Quarter into rental office space and storage.
The body also approved a quitclaim deed from the Commissioner of the Department of Property and Procurement on behalf of the Government of the Virgin Islands to Cyril LaPlace as Trustee of the Cyril A. La Place Trust for the following property: Parcel No. 11-B Estate Dorothea, No. 6 Little Northside Quarter St. Thomas, Virgin Islands, consisting of approximately 230 square feet as illustrated on OLG NO. D9-9141-T016 dated March 14, 2016. DPNR officials said during the first committee hearing on this that the action would clear up a potential title problem for the owner and affects only a tiny sliver of land.
Horse Racing Nominees
Senators approved three nominees to the V.I. Horse Racing Commission.
The Legislature merged the territory's two district horse racing commissions in December 2017 as part of a plan from Gov. Kenneth Mapp to try to revitalize and better regulate the horse racing industry. The reconstituted V.I. Horse Racing Commission is within the Department of Sports, Parks and Recreation. It is supposed to have eight members. Mapp nominated six in June. Henry Schjang; Ronald Phillips, Sheldon Turnbull, Dr. Laura Palminteri, Jay Watson and Ian Samuel.
Friday, the Senate approved Schjang, a former inspector for the V.I. Casino Control Commission; Phillips, a chemical engineer who said he has been involved with horse racing on St. Croix since the late 1960s; and Turnbull, a broadcaster and horse racing fan.
It voted to send Palminteri's nomination back to committee, with several senators expressing respect for Palminteri's expertise and commitment but reservations about an inherent conflict of interest as a veterinarian working at the tracks. Palminteri is one of very few veterinarians for horses in the territory and has worked extensively with horses at both the territory's racetracks.
"We must remember that … this group will have to create and promulgate rules for anti-doping," Vialet said, adding that the veterinarian at the track will also be determining if a horse is or is not qualified to run.
"If the veterinarian goes onto the commission, she can no longer practice as a veterinarian," he said.
Senate President Myron Jackson agreed.
Two senators were absent Friday: Sens. Positive Nelson and Sammuel Sanes.