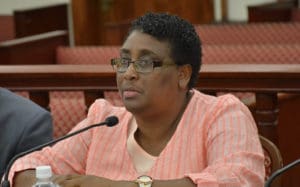 Caroline Fawkes, supervisor of elections, and Arturo Watlington, chairman of the Board of Elections, Thursday presented to the Senate Finance Committee a budget asking for an increase of $283,686 for the upcoming fiscal year.
This would be the first budget increase since 2011.
"Over the years, we are constantly taking from Peter to pay Paul, but this cannot continue as business as usual," Fawkes said.
Gov. Kenneth Mapp had recommended that the Election System cut its budget, not increase it.
Increases would be go to capital improvement funds, leasing the St. John office, hiring information technology contractor, and legal fees. Fawkes testified the proposed budget would ensure the non-unionized employees will obtain overdue step increases, estimated at $35,000, but it does not include any retroactive payment.
Presently, the system is paying more than $8,000 per election to outside contractor Election Systems and Software for services.
"By hiring local contractors, this funding will remain in the territory," Fawkes said.
Legal fees are estimated at $28,896.
"The increased cost of legal fees continues with each new court case," Fawkes said.
The Elections System has been taken to court by political parties and candidates. It has also fought in court reforms proposed for the system.
The St. John office was relocated in January 2016 due to the unsafe working conditions and numerous America with Disability Act complaints.
The Election System has two divisions – the Board of Elections and the Office of the Supervisor.
The Office of the Supervisor will get the bulk of the funds – $1.7 million. The supervisor funds would be divided as follows: $455,000 for personnel services; $360,000 for capital outlays; $192,300 for fringe benefits, $34,000 for supplies, $561,536 for other services and $81,000 for utility service.
The board's share of the budget request is $232,360. Its requested breakdown is as follows: $156,760 for personnel services, $36,600 for fringe benefits, $2,000 for supplies an $37,000 for other services.
Fawkes referred to the law requiring photographs of candidates as a major unfunded mandate. She said that adding photos increases the number of ballots and in the 2012 Election, voters were given five different ballots.
"We have requested numerous times that this section be repealed. I'm again requesting the 32nd Legislature act prior to September when ballots must be prepared," Fawkes said.
Mapp recommended a General Fund appropriation of $1.4 million – $140,000 for the Board of Elections and $1.2 million for the for the Supervisor of Elections.