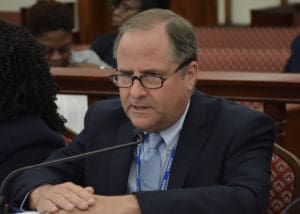 V.I. Water and Power Authority officials told lawmakers Tuesday that the utility is projecting a $40 million deficit for fiscal year 2019 and still awaits some $41.2 million in unpaid power and water bills from the local government.
WAPA Chief Executive Officer Lawrence Kupfer, who was presenting his agency's finances before the Senate Finance Committee, said that the V.I. government owes the utility some $33.7 million in electric bills and some $7.5 million in water bills.
A large chunk of the electric debt reflects amounts owed by the territory's hospitals. As of May 31, Schneider Regional Medical Center owes VIWAPA some $9.48 million while Juan F. Luis Hospital owes $10.5 million. The rest are split between Waste Management Agency – which owes $1.66 million – and street lights.
The same semi-autonomous agencies also account for the $7.5 million unpaid water bill by the government. As of May 31, Juan Luis Hospitals owed $2.18 million, Schneider Hospital $1.8 million and the V.I. Housing Finance Authority $1.44 million. The total amount reflects a 9 percent increase compared with the same period in the last fiscal year.
The size of the local government's WAPA debt coincides with the utility's projected shortfall. According to Kupfer, on the electrical side, the utility projects a $45 million deficit, offset slightly by a projected $4.2 million in water income.
"The authority is working with [the Federal Emergency Management Agency] and the Department of Treasury to secure an additional Community Disaster Loan to help bridge this shortfall," said Kupfer.
"Rates may be impacted to compensate for any shortfall," he added.
WAPA's fiscal woes worsened as a result of the 2017 hurricanes. Kupfer said their cash collections declined significantly as the agency worked to restore power to its customers while repairing its facilities, including its automated metering infrastructure, known as smart metering. The smart-metering system collapsed after the storms, forcing WAPA staff to read meters manually, which exacerbated the billing problem where customers receive erroneous bills or none at all.
According to Kupfer, the smart meters are expected to be fully restored by the end of the summer, but multi-month paper bills have already begun mailing out in January. WAPA officials expect to return to normal monthly billing cycles by September.
In spite of recovery efforts, the utility still estimates electricity sales to drop by 13 percent for fiscal year 2019 compared with 2017, with some 90 percent of the authority reported to have been restored since the storms.
In preparation for future disasters, FEMA has approved $625 million in mitigation funds for the utility to permanently harden its electrical system. A majority of that amount – $480 million – will fund underground and submarine transmission. Kupfer said 275 miles of underground systems will be installed across the territory.
In areas where the utility cannot perform undergrounding, 6,500 composite poles will stretch across 400 miles of VIWAPA's above-ground system.
"These FEMA-funded mitigation projects will make VIWAPA's grid much more resilient and will make recovery from hurricane events much shorter in duration," Kupfer said.
Kupfer asked the Legislature to look into the subsidized net-metering program, which legally mandates the authority to purchase power from net metering customers, a transaction that currently costs $0.32 per kilowatt hour. In contrast, buying power from the solar farm on St. Croix costs only $0.17, a price disparity that forces the authority to pay almost double to net metering customers.
"It's not WAPA that's forced to pay this higher price but our customers who do not have solar systems," Kupfer said. "By our estimates, this subsidy that the customers without solar systems are paying for customers with solar systems amounts to $1.5 million to $2 million per year."
Kupfer is now asking the Senate to work with Government House, not only to make sure government agencies can pay their obligations to WAPA, but also to budget for possible increases in oil prices that could require the authority to adjust fuel surcharges, which would mean budgeted amounts to pay for utilities may no longer be sufficient.
Meanwhile, the Virgin Islands Lottery, led by Executive Director Juan Figueroa, also came before the Senate Finance Committee, even though it does not get funding from the general fund, instead generating revenue mainly through its various lottery games.
The agency missed its projected revenue targets this year by 7.85 percent in the traditional game, which was offset by a gain of 7.28 percent in its video lottery gaming. Figueroa stressed, however, that ticket sales already dropped by eight percent between fiscal years 2016 and 2017. In addition, based on their actual number as of June 30, they expect to see a six percent compared with last year.
According to Figueroa, the agency also felt the impact of the 2017 hurricanes, with infrastructure damage resulting in the postponement and cancellation of several traditional drawings. The Powerball and Mega Millions operations also had to be relocated and could not resume until May 18, when Multi-State Lottery Regulation security and safety inspections were completed.