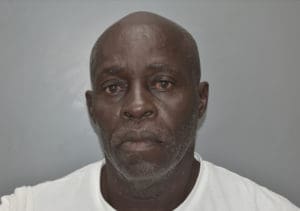 John Petersen, a 63-year-old St. Thomas man, was arrested at 9:45 a.m. Monday by the V.I. Police Department after being identified as the suspect who struck a woman with a baseball bat.
According to police, Petersen was advised of his rights and arrested on a charge of third-degree assault/domestic violence.
The arrest resulted from an incident that took place Aug. 5. At about 10:30 p.m. that day, the VIPD Domestic Violence Unit responded to a call about a woman being treated at the Schneider Regional Medical Center after being assaulted and was being treated at the hospital. Detectives interviewed the woman, who said a male acquaintance came to the home intoxicated and assaulted her with a baseball bat, causing injuries in her forearm and her torso.
Petersen was booked, processed and turned over to the Bureau of Corrections pending his advice of rights hearing. No bail was set as per the V.I. Domestic Violence Law.