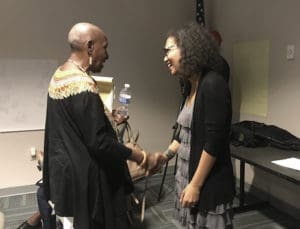 The St. Croix Foundation on Monday kicked off a week of activities aimed at empowering organizations within the territory's nonprofit sector and for the community at-large to become change agents.
Foundation Executive Director Deanna James opened the event Monday night to a full room at the conference room of the Cardiac Center at the Juan F. Luis Hospital.
"Today the foundation is acutely sensitized to the change in our civic center and in our community," James said. "Our consortium is affording us a valuable opportunity to grow in understanding the comprehension of systems changing."
"We hope that our meeting tonight will direct us in a more meaningful and productive conversation for this really important work," she added.
Tuesday Ryan-Hart, a systems-change strategist who has worked with organizations and stakeholders engaged in community building, was the keynote speaker, introducing the community to a concept of community engagement entitled "The Art of Hosting." The concept is designed to build capacity in the community through conversations and training.
"Today's modern crises, capabilities, and constraints call for new ways of working together – not another unsustainable system of response and rebuilding, but something new," Ryan-Hart said. "This moment is ripe for good ideas and good work. Let's forge a new path."
Ryan-Hart shared a Power Point presentation with her narrative on "the art of hosting." It's an art, she said, because it can't be engineered.
"Embrace every voice. Bring people, ideas, and perspectives in from the outside," she said.
"We must create conditions for people to create," Ryan-Hart said, "Talk with each other and begin to build with each other, not looking for a senior leader. Show up giving the ability to trust each other."
The attendees were broken into groups of four to five people and, using the information gleaned from the keynote address and the Power Point, create a resolution to the questions of "Where am I most aligned," and "Where am I most challenged?"
James opened Monday's meeting by naming the co-founders of the SCF. Phillip Gerard, Michael Neuburger, Ruth Beagles and Claudette "Adjoa" Young-Hinds came together 28 years ago to draw up plans for the organization, she said.
James noted that the group's early days were marked some rocky times learning to collaborate.
"It is not a common practice in many places in our community," she said "In the first weeks of our first month, we worked through stormy days of collaboration with our non-profit consortium partners."
James said the foundation has maintained a firm commitment to collaboration.
"For those consortium partners who stayed the course and worked through the stormy phase of our launch, I can honestly say we are all stronger, more collaborative, and trusting partners. We have a long way to go in meeting our collective goal of strengthening our operational infrastructure, building organizational capacity in creating a collective vision in our community as a whole. We have remained firmly committed to work through those challenges to sustain resolutions," she said.
As the evening drew to a close, James told the attendees, "Something that was shared here is going to move you to do something different tomorrow. We have a long week ahead for non-profits, so I hope you are geared up for it,"
Thursday and Friday, the St. Croix Foundation will host Edward Jones of the Association of Black Foundation Executives and the Black Social Change Funders Network. The network of funders is committed to creating thriving black communities by strengthening the infrastructure for social and black-led change.