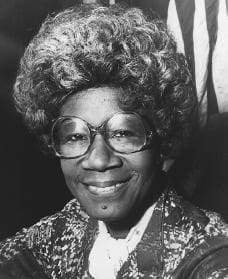 Dear Source:
When I look back in political history, I found that I must move towards electing mostly women in this 2018 election. I found that female electors tend to deal with the issues affecting their communities less emotionally and more practically. History proved that female politicians achieve more in a shorter period than most of their male counterparts. They tend to be humbler, to-the-point and realistic.
One such woman who proved this to be true in my estimation was Shirley Chisholm, although not a Virgin Islander, but one with Caribbean roots. She was born on November 30, 1924 in Brooklyn, New York. Her father was from British Guiana and worked in a factory that made burlap bags and her mother from Barbados who was a seamstress and domestic worker.
In 1927 she was sent to Barbados to live with her grandmother where she received a good education from the British style school system which she credited with providing her with a strong academic background. In 1968 she became the first black woman elected to the United States Congress. She joined the Congressional Black Caucus in 1969 as one of its founding members. She embraced her Caribbean historical roots when she wrote in her autobiography, (. . . "later I would know what an important gift my parents had given me by seeing to it that I had my early education in the strict, traditional, British style school of Barbados.")
She became the only Congresswoman representing New York 12th district for (7) terms from 1968 to 1983. She became the first African-American woman elected to Congress and the first African-American to run for President of the United States. She received 152 first-ballot votes at the 1992 Democratic National Convention and in 1977-1981 during the 95th Congress and 96th Congress, she was elected to a position in the House Democratic Leadership as Secretary of the House Democratic Caucus.
She was nominated by President Bill Clinton to serve as U.S. Ambassador to Jamaica, but she refused because of health reasons. In 1993, she was inducted into the National Women's Hall of Fame. In February 2005, Shirley Chisholm, 72, [was the subject of] the "Unbought and Unbossed," a documentary film [that] was aired on the U.S. Public Television. It chronicles her 1972 bid for the Democratic Presidential Nomination. She died on January 1, 2005.
In the political history of the Virgin Islands, we too have had many firsts as it pertains to female electors. For instance, Ann Abramson was the first elected senator—the 9th Municipal Council; Ruby M. Rouss, the first elected woman to serve as president of the legislature; Lorraine L. Berry, the longest serving senator 28-years; the first elected Senator-At-Large, Cleone Creque Maynard; and the first female to serve as Delegate to Congress, Donna Christiansen.
This year could be the politics of change!
Winston Nugent, St. Croix