The failure of local governments to perform required services or protections – and without causing harm to people or their surroundings – has led to action in federal court. But now, many years later, some cases have turned into endless litigation with no resolution in sight.
The U.S. Virgin Islands is involved in nine consent decree cases, some of them dating back to the 1980s.
According to legal experts, consent decrees are mutually binding agreements reached between two parties. One online legal dictionary defines it this way: "A settlement of a lawsuit or criminal case in which a person or company agrees to take specific actions without admitting fault or guilt for the situation that led to the lawsuit."
Among the different types of court ordered settlements, the one that most affects the Virgin Islands are those federal decrees that direct local governments to change their practices and policies. Longstanding decrees in place in the territory fall into areas of shared concern across the U.S. – police practice and policy, environmental regulation, prison reform.
They can involve government parties, corporations, citizens united in class action lawsuits.
One type of consent decree recently appeared in headlines when U.S. Attorney Jeff Sessions expressed opposition to settlements calling for reform of police practices. The U.S. Virgin Islands is one of 23 U.S. jurisdictions subject to a consent decree over police practices.
Sessions is not alone in criticizing the system. Complaints about blurred lines regarding separation of governmental powers have led to the U.S. Supreme Court. In 2004 the high court ruled in favor of keeping them, but giving states the right to modify the terms of an agreement, as long as there was a compelling reason.
This is something that can be seen in local consent decree cases. But what is also seen are frustrating cycles of violations, leading to sanctions, sometimes fines, and the creation of modified agreements, which are met … or not.
Here is a roundup of nine cases where federal action has led to settlement agreements:
Government Employees Retirement System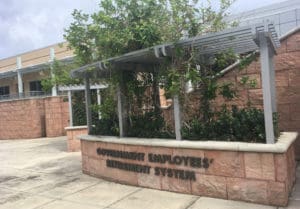 This case began with a challenge on Jan. 6, 1981 by government workers paying into the state-run pension system. A consent judgement was reached on Dec. 10, 1984.
But 32 years later – in 2016 – administrators for the Government Employees Retirement System returned to District Court, asking a judge to hold a hearing to determine if the V.I. government should be held in contempt of that 1984 judgement.
Most recently Finance Commissioner Valdamier Collens appeared before District Court Judge Curtis Gomez with documented evidence.
The evidence, he said, showed the record of local government paying its employer match into the GERS. Collens said the balance of payments would be paid shortly, but the judge was skeptical.
Golden Grove Prison
Poor – sometimes dangerous – conditions and inadequate services in the Virgin Islands prison appears in a case that began in 1986. By the time documents kept by the Distinct Court of the Virgin Islands were filed electronically in 2007, United States of America vs. Territory of the Virgin Islands was already 21 years old.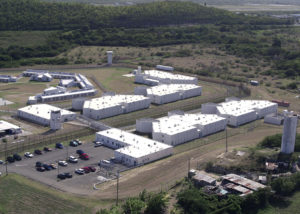 A consent decree was created to address violations of the Prison Litigation Reform Act. PRLA was enacted by Congress in 1996 to limit the ability of prisoners to sue over the conditions of their confinement.
A status report filed in 2007 noted problems with safety and security at the Golden Grove Adult Correctional Facility; there was one inmate escape and one stabbing caused by a fight between inmates.
There were problems resulting from staffing shortages or no providers for health and mental health care; shortages of prison guards.
The report also pointed to electrical problems at Golden Grove and problems with the perimeter fence.
Steps taken to fix those violations crawled along for years until a federal judge in the Virgin Islands threatened to hold Bureau of Corrections officials in contempt of court.
A notice of appeal was filled with the U.S. District Court, Third Circuit. On Nov. 7, 2017, the appellate court affirmed the lower court ruling.
A court appointed monitor, Kenneth Ray, was put in place to oversee reforms.
At a status hearing held in March 2018, it was apparent that several problems cited more than a decade ago remained. By then the V.I. government and BOC addressed the Golden Grove staffing problem by shipping hundreds of inmates off island to facilities ranging from Florida county jails to a super maximum security prison known as Red Onion.
By March 2018, the territory was facing the aftermath of two catastrophic hurricanes. At one point the entire population of the pre-trial detention center on St. Thomas – the Criminal Justice Complex – was temporarily shipped over to Golden Grove.
Lawyers representing BOC and the U.S. Department of Justice, Division of Civil Rights appeared before Chief District Judge Wilma Lewis. The arguments sounded familiar.
The feds accused BOC of acting in bad faith and failing to meet its quarterly compliance steps. There were two inmate deaths, one attempted suicide and a prison escape.
But Lewis disagreed, chiding Justice lawyers for failing to see the struggles facing BOC and the rest of the territory at the time. Still, the judge told the feds to keep holding BOC accountable.
Criminal Justice Complex (a/k/a St. Thomas Jail)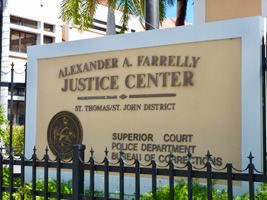 The third oldest case involving a federal consent decree began June 20, 1994, involving the St. Thomas jail. A class action lawsuit was brought by five inmates and litigated by the American Civil Liberties Union National Prison Project.
At the time complaints involved the CJC, located on the top floor of the Alexander Farrelly Justice Complex on Veterans Drive and the Sub Base Annex, overlooking Krum Bay.
Court documents lay out the basis for the lawsuit filed by Lawrence Carty, William Penn Jr., Dennis Swartz, Jeff Immel and Mao Penha in the case, Carty, Lawrence vs. Kenneth Mapp as Governor of the Virgin Islands:
"On June 20, 1994, Plaintiffs, a class comprised of pretrial detainees and inmates, filed their class action suit alleging that the conditions in the Criminal Justice Complex … and the Criminal Justice Annex … in St. Thomas, USVI (collectively referred to as 'the jail') were unconstitutional due to inhumane and dangerous conditions that the inmates were subjected to while housed in the jail … "
A settlement agreement was signed Oct. 12, 1994. Since then government and BOC officials were cited with contempt five times over the next 13 years. In one step forward, the Sub Base Annex was closed.
When litigation began, CJC's population at the Farrelly complex was capped at 97 inmates. At the most recent hearing in 2018, the population was roughly half that, but half of that number was classified as mentally ill.
According to the National Alliance on Mental Illness, half of all U.S. inmates suffer from mental illness. At a compliance hearing held this year a witness, Dr. Kathryn Burns, told the court CJC is not equipped to handle the mentally ill. As of the last hearing, held June 27, a proposed solution called for a portion of beds at the Eldra Schulterbrandt Residential Facility in Anna's Retreat to be allocated for mentally ill inmates from CJC.
Problems cited under provisions of PRLA included lack of mental health services, inadequate training and staffing of security; the need for a prisoner classification system; improper handling of use-of-force restraints; the need to properly manage special needs inmates; the need for policies on inmate discipline and segregation; providing inmate access to legal counsel and access to telephones.
At the first CJC compliance hearing after Irma and Maria, a list of problems were reported. Inmates jammed the lock on a door leading to one unit, which took days to resolve. Smoky fires were set on at least two occasions, using contraband lighters. One inmate slipped through an unlocked door and stabbed another inmate with a homemade weapon. A staffing shortage, made worse by the death of a Corrections officer at his home from storm related injuries, led jail managers to transfer all prisoners to Golden Grove on St. Croix.
Police Use of Force – Compliance and a Shakeup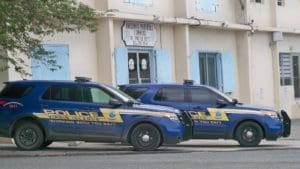 A series of police involved shootings around 2004 – including the shooting of a nude, mentally ill man on a St. Croix beach – led to the filing of a civil rights lawsuit, United States of America vs. Territory of the Virgin Islands and the Virgin Islands Police Department.
When the case first began, VIPD had a haphazard system for managing civilian complaints. A District Court led to creation of a consent decree on March 24, 2009. Since then, police commissioners and their lawyers have undertaken a number of compliance steps.
According to an article appearing in the Washington Post in April 2017, VIPD is one of 14 consent decree cases being enforced by the U.S. Justice Department across the U.S. since 2009.
Assistant Police Commissioner Curtis Griffin recently declared VIPD in 85 percent compliance. The outreach component is not a compliance step, he said.
"The consent decree doesn't require this but it's good practice," he said. "It's all in an effort of sustainability and reform."
Griffin pointed to a three part process towards compliance. Policies and training have been addressed, he said. Implementation remains. At the same time he complained that achieving the last 15 percent involves small steps that are difficult to do.
But District Court Judge Curtis Gomez disagreed. At the end of the most recent hearing on use-of-force compliance, Gomez told police officials there'd been no substantial progress made.
On July 7, the judge appointed former Pittsburgh Police Chief Robert W. McNeilly and retired National Guard Brigadier General Timothy Lake to oversee the remaining compliance steps. In an order issued that day, Gomez directed McNeilly and Lake to set priorities for VIPD compliance; to point out areas where additional resources can be applied; identify areas where "changes to policies, protocols or practices could achieve marked improvements in compliance."
The judge ordered VIPD to provide all reasonable assistance and cooperation to allow McNeilly and Lake to carry out their duties. Gomez also told VIPD to bear all reasonable costs and fees associated with their efforts.
McNeilly was chosen for his expertise on police practices. Lake, a graduate of Charlotte Amalie High School, is the former Deputy Commander of the Joint Task force on Guantanamo Bay detention center in Cuba.
Lake was chosen for his expertise on "efficient governmental administration and official governmental policy administration."
The two experts have until 3 p.m. Aug. 7 to submit a report outlining specific steps VIPD can take towards substantial compliance.
A $5.3 Million Settlement, A Decree, but No Admission of Harm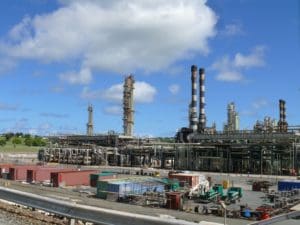 By the time it ceased operating the second largest oil refinery in the Western Hemisphere in 2012, Hovensa (formerly Hess Oil) had paid a $5.3 million dollar settlement in the case United States of America vs. Hovensa LLC.
At the same time, court documents state Hovensa never admitted it had failed to properly manage air pollutants sulfur dioxide, nitrogen oxide and benzene, byproducts of the refining process.
Nonetheless, Hovensa did, "undertake the installation of air pollution control equipment and enhancements to its air pollution management practices to reduce air emissions."
The effort was undertaken with the goal of mitigating 5,031 tons of nitrogen oxide and 3,460 tons of sulfur dioxide emissions produced yearly.
Talk about the consent decree, reached Jan. 26, 2011, surfaced again in the last week of July when the 32nd Legislature approved a measure authorizing the government to enter a deal, reactivating the St. Croix refinery.
Wastewater Treatment Plants and the EPA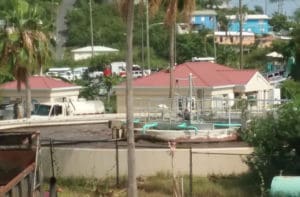 One of the oldest federal consent decree cases in the Virgin Islands predates the agency in charge of fixing the problem by 20 years. The United States filed a complaint against the Government of the Virgin Islands alleging violations of the Clean Water Act in March, 1984.
The Virgin Islands Waste Management Authority, which oversees operations of the territory's landfills, solid waste transfer station and wastewater treatment plants, was created in 2004.
Failures in operations of the WWTPs and wastewater pump stations led to the discharge of thousands of gallons of raw sewage into coastal waters.
A consent decree was reached in 1985. Progress was sporadic. The terms were modified twice, in 1996 and in 2009, but for different reasons. The earlier change came after the feds threatened to hold territorial officials in contempt for violating the terms of the agreement.
The 2009 amendment came with a declaration that parts of the wastewater system were performing well.
In March 2010, a failure at the Figtree Pump Station on St. Croix led to the uninterrupted flow of raw sewage into the Caribbean Sea at an estimated rate of 40,000 to 50,000 gallons a day. WMA officials promised to install new pumps and backup pumps, but it took two years before the matter was resolved to the satisfaction of the court and the feds.
Along the way, a promise was made for capital improvements to the wastewater system. An amended consent decree reached in March 2011 evolved into a Stipulated Agreement in 2013. That agreement, amended twice since then.
By early 2017 it became apparent that the contractor engaged to build and operate two major wastewater treatment plants, Veolia Water North America – Caribbean LLC, was in financial trouble because of slow payments from the government.
By March 2018 outstanding payments ballooned to $4.7 million. A series of resignations by top management at WMA delayed the court as it sought answers about compliance steps. Veolia informed the parties it intended to cease operations in the Virgin Islands.
WMA was found in violation of the consent decree again. Its acting director told the court about its plans to train staff members to operate its two major wastewater facilities – one on St. Thomas, one on St. Croix – with agreement from Veolia to assist in the training prior to transitioning out.
Superfund Cleanup Leading to Consent Decree
Unlike most of the litigation leading to consent decrees, the Sept. 7, 2012, decree reached in the case United States of America vs. Government of the Virgin Islands, et al stopped once the agreement was reached.
All of the wrangling between the feds and the local government occurred on the front end, starting in August 1987. At the time the wellfields in Estate Tutu was the main source of drinking water for residents of St. Thomas. Tests conducted by the Environmental Protection Agency found hazardous substances in the water.
Local officials ordered the wellfield shut off from consumption and Tutu Wellfields was designated as an EPA Superfund Cleanup Site. The Government of the Virgin Islands was cited for violations of the Comprehensive Environmental Response, Compensation and Liability Act (CERCLA).
CERCLA is a 1980 federal law, giving federal authorities the power to abate the release or the threatened release of pollutants that might create a substantial threat to the environment.
The EPA spent more than $8.2 million dollars on the Tutu Wellfield Superfund cleanup and the federal government threatened to take local government official to trial.
The 2012 settlement ended the threat. The deal included reimbursing cleanup costs to the EPA.
Heaping Landfills, Mounting Problems (and Those Damn Birds!)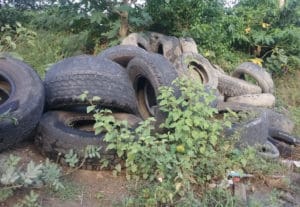 Persistent money problems plague the WMA in a second compliance case that also involves the Virgin Islands Port Authority. The case of United States vs. Government of the Virgin Islands dates back to 2010 and focuses on solid waste management at the territory's landfills and its impact on the environment.
At the Bovoni Landfill on St. Thomas, federal authorities filed a 34-page complaint in May 2010, citing violations of the Clean Air Act. Concerns were raised about proper management of discarded lead acid batteries, waste oil and the migration of the leachate into a nearby mangrove.
The mangrove is considered an Area of Concern under the Resource Conservation and Recovery Act (RCRA).
Federal authorities have also sought the closure of the Anguilla Landfill on St. Croix since 2006. Because of its proximity to the Henry Rohlsen Airport, scavenger birds posing a hazard to passing aircraft has always been a concern.
Both landfills have also been cited for improper management of methane gas produced by decomposing household waste. Those gases are believed to have caused spontaneous fires that erupt at both landfills. The most recent one broke out at Anguilla in Spring 2018.
Partial consent decrees outlining actions steps for Bovoni and Anguilla separately were entered in March 2012 and January 2013. Both sought closure of the landfills on St. Thomas and St. Croix.
Six years and five years later, respectively, the opposite occurred. An influx of storm debris from Hurricanes Irma and Maria in 2017 led WMA officials to seek expansion of the two landfills.
Leachate and storm debris migrating into mangrove waters near Bovoni resurfaced as a problem at the July 18 hearing before Judge Gomez. A damaged perimeter fence from encroaching waste was discovered a few days earlier.
Attempts to fend off scavenger birds at the Anguilla Transfer Station remained a problem, said interim WMA Director Tawana Albany Nicholas.
Attempts to address longstanding problems with discarded tires suffered a setback when WMA and its contractors on site at Bovoni discovered an extra 200,000 tires hidden by overgrown bush. By the judge's estimate that brought the number of tires to be processed and baled for off island shipment to 600,000.
At the July hearing the judge asked how Nicholas planned to handle the overload. The director said she would probably ask contractors to perform extra hours on site.
Which led Gomez to ask a pointed question: Did WMA have the funds to complete the job?
Not immediately, was the answer from Nicholas.
Part of the terms reached in 2012 and 2013 called on WMA to gain Legislative approval to impose user fees in order to raise operating funds. That effort has been delayed by lawmakers, although some user fees are scheduled to take effect in 2019.
Water and Power, the Latest Entry
The Water and Power Authority's 2014 federal case cites two problems. In the initial complaint, filed Oct. 30, 2014, the case United States of America vs. the Virgin Islands Water and Power Authority seeks two remedies:
A switch from diesel used in vehicles to a less polluting, non-vehicle formula to use in its emergency generators in the St. Thomas-St. John district.
Construction of an emergency sub station in Coral Bay, St. John. Currently St. John has one emergency generator that was deactivated several months ago.
Lawyers representing the public power company have told the court plans are in place to address both problems. The switch to a different diesel formula is expected to clear the utility of alleged violations of the Clean Air Act.