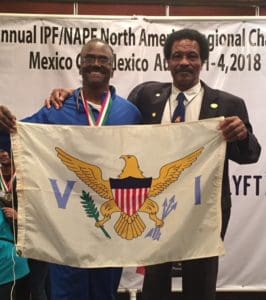 The 16th NAPF/ IPF Powerlifting Championships were held from Aug. 1-4, at the Sevilla Palace Hotel in Mexico City, Mexico. Nine countries attended the championships: Belize, Costa Rico, Guatemala, Guyana, Mexico, Panama, Puerto Rico, Trinidad/Tobago and the U.S. Virgin Islands. Over 150 athletes participated in the event with the competition lasting all day for three days.
The powerlifting competition consisted of squat – bench press – deadlift, with nine weight classes in the men's division and eight weight classes in the women's division. Belize and Panama were new federations entering the competition.
The U.S.V.I. had one lifter competing in The Men's Masters II 83 Kilo Class, Ronald Walker, who won the silver medal in his division. Walker was very conservative in this competition, due to the 7,000 feet altitude of Mexico City, lifting 250 Kilo/551 lbs. It was the deadlift that gave Walker the silver medal.
The general secretary of the IPF wants the Virgin Islands to host the NAPF/IPF Championship within the next two years. The 2016 NAPF/IPF Championship held on St. Croix was the largest attended NAPF/IPF event held outside of the United States, with 250 lifters competing. If it were up to the general secretary he would have them all in the V.I. because of the reception and the beauty of the Island and the response from those that attended.
They would like to have the Collegiate Powerlifting Championship at the University of the Virgin Islands.
People can view the championships on www.liftcast.com or www.IPFPowerlifting.com. For more information, contact USVI Powerlifting — Coach Robert Massey at 998-1039 or Ronald Walker at 513-4063.