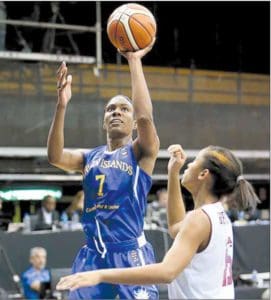 The U.S. Virgin Islands (ISV) Women's Basketball Team beat out Guatemala, Barbados and Jamaica to place fifth out of eight teams at the 2018 Central and American and Caribbean Games (CAC), according to a press release from the Virgin Islands Olympic Committee (VIOC).
Team ISV finished with three wins in a row after a slow start to the tournament in the preliminary rounds and after losing several players, including forward Cheyenne Hedrington who tore her Achilles' tendon during their game 2 loss against Cuba on Saturday, July 21.
The team initially announced that Hedrinton, 24, would have her surgery in the United States. Hedrington was advised and agreed afterword to have the surgery as soon as possible. The surgery took place in Barranquilla yesterday morning at the Laboratorio Clínica Portoazul.
Hedrington, who was discharged from the hospital on the same day, is doing well and in good spirits, according to Angel Morales VIOC president.
Clint Williams, the team's head coach, said he is very proud of the team despite the challenges they faced, including injuries.
"The girls did a great job of getting treatment from Jerry [Smith] and Paul [Almonte], our trainers, and being ready to compete each day. It was a lot of fun and good experience for our ladies," Williams said. "The future of our women's national team is extremely bright!"
Individuals can follow the games and the status of Team ISV athletes competing at www.baranquilla2018.com.