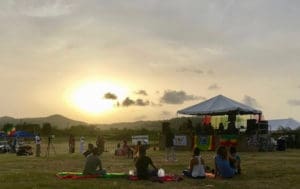 Rastafarians and the community-at-large gathered at venues across St. Croix, joining together for the first wellness conference.
The Virgin Islands Royal Fest and Wellness Conference was created to maintain the legacy of royalty and what it means to the children of the Emperor Haile Selassie I, said Ras Isaiah WSTX FM radio host.
A three-day celebration of the 126th birthday of Selassie brought artists, musicians and wellness professionals from across the U.S. Virgin Islands and the BVI to praise and revere in the spirit of unity with a feeling of physical and spiritual wellness.
Ras Isaiah spoke at the Rudolph E. Schulterbrandt Agricultural Complex in Estate Lower Love. He opened the evening with a backdrop of the Nyabingi drummers and chanters reverberating throughout the agricultural grounds on Friday.
Folks arrived and began spreading their blankets on the grass for an evening of live roots reggae entertainment. Food vendors were available to delight the palate. Vendors selling soaps, clothing and other articles were set up for the night.
"We chant life over everything else. The ones to which God has given the gift of voice are coming together to speak as one consciousness for our Virgin Islands," said conference co-founder Niyorah Olivacce of Denkenesh Records. "The rough storms of last year humbled us all and showed us the importance of coming together. Our vision reflects and reinforces that unity in a powerful and positive way."
Many speakers came together Monday evening at the cafetorium of the University of the Virgin Islands' St. Croix campus as "the one consciousness" Olivacce spoke about. Monday's program was in collaboration with Virgin Island Caribbean Cultural Center.
Art therapist M. Irieah Oshun Tokun Stiles shared her artistic approach to healing. She said she creates behavioral and clinical plans, which are helpful to children and adults in transforming static energy from the inside out.
Her Creative Arts in Wellness program brings to light the fears, anger and negativity one may be harboring. Through working with clay, painting and drawing, the individual can release those energies, she said. Her students get a chance to find out what is happening in each part of their bodies, she said.
Students make masks to express their feelings and upon reflection begin to redesign the mask as they let go of what has been holding them back, said Stiles.
Ras Bobby Olivacce talked about herbs and cleansing and the need to eat less. Yoga, Tai Chi and the martial arts are important for disciplining the mind, body and spirit, said Olivacce.
"The first healing is to take responsibility for yourself. As Rasta, life on the earth is a healing process of your relationship with yourself," Olivacce said.
Selassie was born on July 23, 1892. He championed African unity and is a guiding inspiration for the Rastafarian movement. He was Ethiopia's regent from 1916 to1930, and emperor of the country from 1930 to 1974. He died in 1975.
Selassie once said, "History teaches us that unity is strength, and cautions us to submerge and overcome our differences in the quest for common goals."
Ras Bobby Herbal Products LLC, Denkenesh Records, ancient Divine Order of Nyabinghi St. Croix, Ethiopian World Federation Local No. 5, Original Kulture, House of RasTafari and Uca's kitchen presented the Virgin Islands Royal Fest and Wellness Conference.