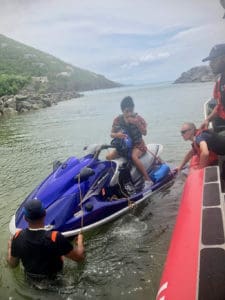 A U.S. Coast Guard boat crew on Saturday rescued two people from a disabled personal watercraft near Hans Lollik Islands, just north of St. Thomas.
According to a Coast Guard news release issued Monday, a man and woman, whose identities were not released, were in distress after their "personal watercraft" lost propulsion and began taking on water half way beween the Hans Lollik Islands and Salt Pond, St. Thomas. Coast Guard watchstanders in San Juan received their mayday transmission on VHF Channel 16.The boat crew of a Coast Guard 33-fooy Special Purpose Craft – Law Enforcement rescued 2 persons from a disabled personal watercraft near Hans Lollik Islands Saturday in the U.S. Virgin Islands. The Coast Guard launched a Coast Guard MH-65D Dolphin rescue helicopter and diverted a 33-foot Special Purpose Craft – Law Enforcement (SPC-LE) boat crew from boat forces St. Thomas to search.
The boat crew arrived in the area of the distress and within 15 minutes located the two persons in the water with their partially submerged watercraft, approximately a quarter mile west of Hans Lollick. The boat crew took the two persons aboard, recovered the personal watercraft and placed it in tow.
The rescued and the watercraft were then transported to the Salt Pond boat ramp.
"It was a group effort – I am glad the operator had the presence of mind to operate his jet ski with a working radio on board," said Petty Officer 3rd Class Anthony Bider, Coast Guard Boat Forces St. Thomas coxswain. "His decision to practice safe boating played a critical role in creating a swift response from of the Sector San Juan command center and our boat crew."
No injuries, medical concerns or signs of pollution were reported in this case.