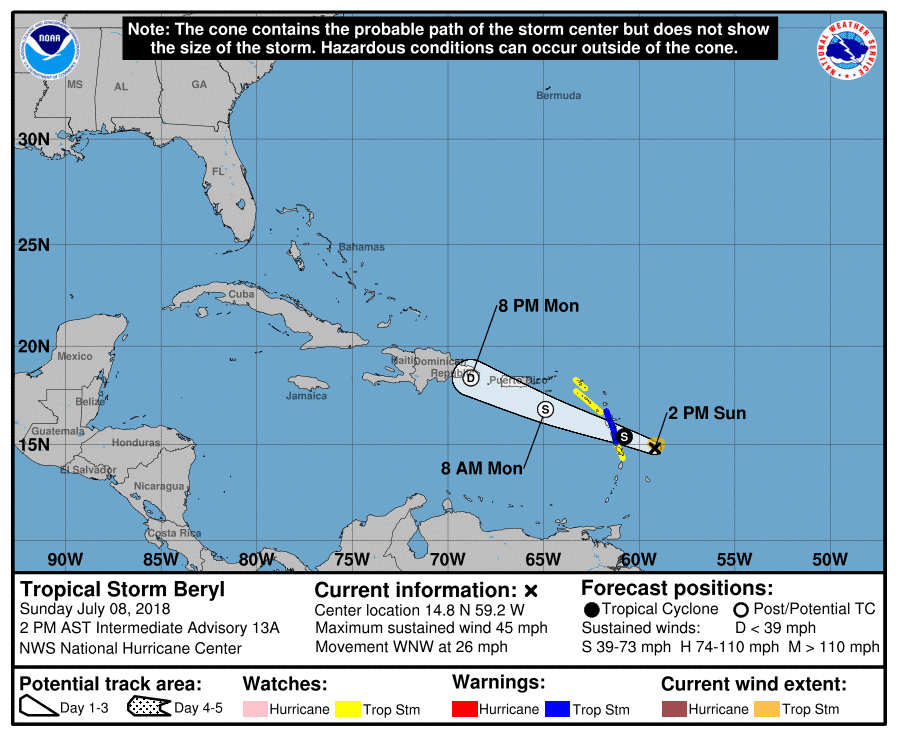 The National Weather Service in San Juan, Puerto Rico, issued a hazardous weather outlook for the U.S. Virgin Islands Sunday afternoon as Tropical Storm Beryl entered the Caribbean, bringing lots of rain, high winds, and possible flooding.
A flash flood watch will be in effect for Monday.
For Sunday afternoon and night, the weather service forecast sustained winds of 20 to 24 mph over the waters. Winds expected to increase overnight into Monday, with gusts from 40 to 50 mph possible.
Choppy seas as high as six feet are expected across most of the local waters. Seas up to nine feet are expected across offshore Caribbean and Atlantic waters, continuing to increase to up to 10 feet overnight into Monday.
There is a moderate risk of rip currents for most of the local beaches, except for Cramer Park beach in Saint Croix, with a high risk of rip currents, the weather service said.
The weakening Tropical Storm Beryl is expected to be an open trough by the time it approaches the territory. However, showers and thunderstorms with heavy rain are expected across the area on Monday. Urban flooding is expected and flash flooding is possible.
A flash flood watch will be in effect Monday. Local winds and seas will also increase and become hazardous. Winds of 15 to 30 mph with gusts up to 50 mph are expected on Monday.
Weather conditions are expected to gradually improve on Tuesday.