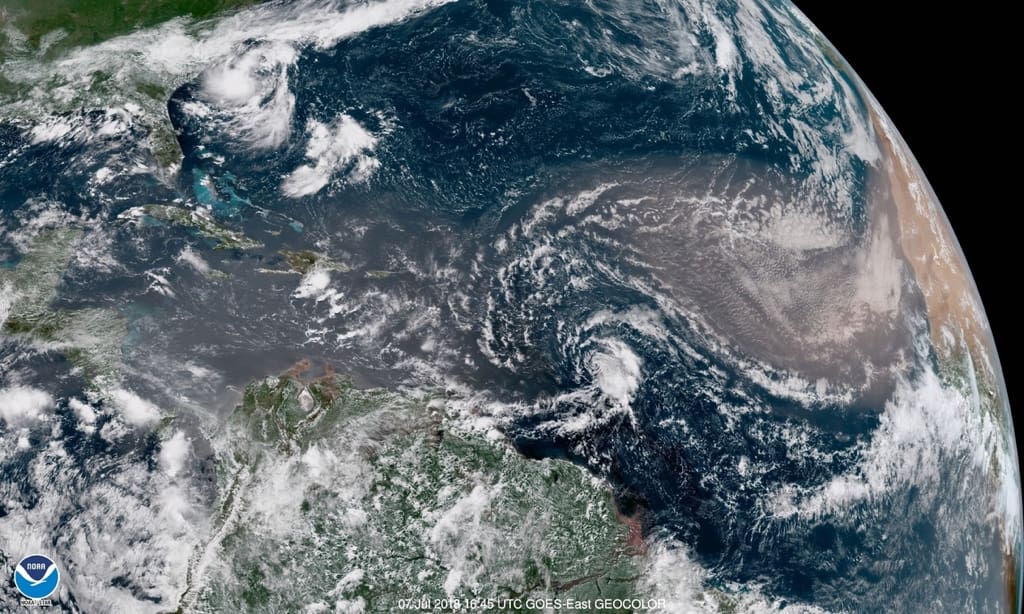 Beryl weakened from a hurricane to a tropical Saturday morning, and is not likely to bring tropical storm force winds to the U.S. Virgin Islands when it passes south of the territory.
The National Hurricane Center reported Saturday that Beryl will pass across the Lesser Antilles late Sunday or early Monday and travel south of the Virgin Islands on Monday, making its closest point of approach to the territory at midday Monday about 89 miles to the south-southwest of St. Croix as a tropical storm with top winds of 45 miles per hour. Because Beryl is an unusually compact storm, tropical-storm-force winds extending outward up to 35 miles from the center are not forecast to affect the V.I.
In its 11 a.m. Saturday update, the NHC said Beryl was about 720 miles east southeast of the Lesser Antilles on a track towards Dominica, then skirting south of the territory and Puerto Rico.
The hurricane center's meteorologists emphasized makes it hard to be certain about the storm.
"Beryl's small size was always going to make it prone to wild and
unpredictable fluctuations in intensity, and that appears to have
come to fruition this morning," the update said.
Upper-level winds over the system remain light, and upper-level cloud motions are still from east to west. The shear and a very dry ambient environment have likely caused the small and fragile cyclone to suddenly weaken.
Beryl will run into upper-level westerlies in Sunday night or Monday morning, making it difficult for Beryl to become more organized again, and its chances of being a hurricane before reaching the Lesser Antilles have decreased significantly.