The U.S. Virgin Islands finished Group D play of the 2019 FIBA World Cup Qualifiers with a 99-69 loss to Canada in Ottawa on Monday afternoon.
The USVI kept it close early, trailing by just four points at the end of the first quarter, but by halftime the Canada lead was up to 12 points. Canada then exploded in the third quarter starting with an 11-0 run in the first two minutes of the half on the way to outscoring the Virgin Islands 31-16 in the quarter.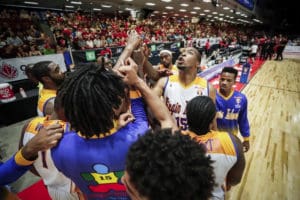 The U.S. Virgin Islands were without starting point guard and their leading scorer from last game, Walter Hodge.
Craig Williams Jr. led the USVI squad with 12 points, hitting three of six from three-point range. Ivan Aska who contributed 10 points.
The talent-rich Canadian squad featured five NBA players, Kelly Olynyk (Miami Heat), Corey Joseph (Indiana Pacers), Dillon Brooks (Memphis Grizzlies) Khem Birch (Orlando Magic) and Dwight Powell (Dallas Mavericks).
Olynyk had 14 points, while Joseph had 11 points to go along with 6 assists for the Canadians.
The U.S Virgin Islands will continue its effort to qualify for the FIBA World Cup in September as part of Group F that includes Canada, Dominican Republic, Venezuela, Brazil and either Chile or Colombia. The top three teams of the group will advance automatically to the FIBA World Cup, while the fourth-place team will qualify, if it has a better record than the fourth-placed team in Group E, which consists of the USA, Argentina, México, Puerto Rico, Uruguay and Panama.
According to the latest FIBA Rankings the U.S. Virgin Islands (49th) would be the fifth-ranked team in Group F behind Brazil (11th), Dominican Republic (16th), and Venezuela (20th) and Canada (23rd) but ahead of Columbia (74th) or Chile (83rd) depending on who advances out of Group B.
The islanders will get a chance to play each team twice, with one game at home and one game on the road. In the first round of group play the USVI did not get to play in the Virgin Islands due to damage from Hurricanes Irma and Maria.
The schedule has not been announced for Group F, but the next game for the Virgin Islands will either take place either Sept. 13 or 14.