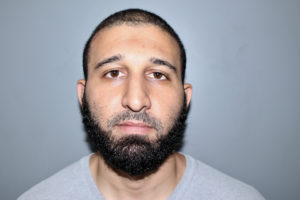 The V.I. Police Department arrested 29-year-old, Alla H. Salem on Friday and charged him in the tampering that saw nine international flags removed from the entrance to the Cyril E. King Airport and replaced with black banners with the word "Allah" and other apparently Arabic symbols on them, according to VI Police Commissioner Delroy Richards Sr.
No Federal charges will be leveled against him, the commissioner said.
Speaking from the podium at a Government House news conference in Christiansted on Saturday, Richards recapped the events leading up to the arrest of the suspect.
At approximately 7:18 a.m. Friday members of the VI Port Authority reported the flags lining the airport road had been removed by an unidentified person and replaced by black flags. Richards said a "through and coordinated" investigation by the VIPD, VIPA police and Federal Bureau of Investigation the suspect was identified, and a search was conducted in the Sugar Estate area. Saleem was arrested following a "brief chase" Richards said.
Following interviews by the VIPD and the FBI it was concluded that Saleem could not be charged federally. There is no "federal nexus" to charge him Richards said. The VIPD charged Saleem with several misdemeanors including conversion of federal property, malicious mischief and petty larceny.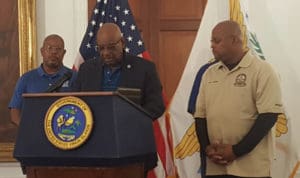 Richards also said Saleem's family members told police he had been acting "strange the last several weeks." Saleem's firearm business license has been revoked, according to the commissioner, and his firearm confiscated pending an official hearing, Richards said.
The commissioner also noted the flags black that were replaced by Saleem seemed to be handmade and not authentic. Although they had the word "Allah" written on them, the Arabic symbols were not real words, according to members of the Muslim community.
Richards thanked members of the Sugar Estate community and the Muslim community on St. Thomas for providing critical information that assisted in the capture of Saleem. He said the case remains under investigation and anyone having any information regarding this case should contact the Criminal Investigation Bureau at 340-774-221 extension 5579 or 5556.
Sugar Estate community for its assistance in providing information leading to the arrest.
Police urged anyone with additional information about the case to contact the Criminal Investigation Bureau at 340-774-2211, ext. 5579 or 5556, the 911 call center, or the anonymous tip service, Crime Stoppers USVI, at 1-800-222-8477.
Editor's note: This story has been updated with information from Saturday's news conference.