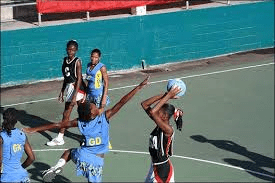 The St. Croix Netball Association is a non-profit organization that has involved over 1,000 participants in the sport of netball since 1996. One of its missions is to incorporate netball into the V.I. Department of Education Physical Education Curriculum for kids who are 4th graders and older.
It launched its 'Netball and Beyond 2018 Summer Edition' from 3-5 p.m. on June 23, at Renaissance Park, St. Croix.
The Association will expand the program to the St. Thomas-St John District at an event scheduled for 1-3:30 p.m., Sunday, July 3, at Emile Griffith Park. The athletes generally meet every Sunday. The focus is to train future netballers from both districts for inter-island competition in order to attain a USVI National Team.
The Visions in Education Youth Netball Tour takes place yearly in Orlando, Fla., in October. There is a great opportunity for players to participate. The Association encourages parents to enroll their kids in a program that fosters sports among youth, especially girls. Netball encourages kids to keep an active body and mind, learn interactive behavior and develop coordination.
Similar to basketball, netball is a catch and throw game where teams of seven players compete on a rectangular court with raised goal rings at each end. The main objective of the game is to score goals by throwing a ball into a netted ring.
This enjoyable and competitive sport is played in most Caribbean countries, England, New Zealand, Australia, Africa, China, U.S.A. and the British Virgin Islands, to name a few.
Connect with St. Croix Netball Association on Facebook. Donate through Paypal. For information, call 914-414-0609 or email [email protected], All are welcomed to join while space is still available. (www.NetballAmerica.com)