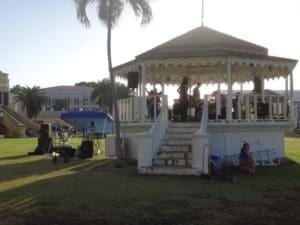 Park rangers arrested Vain Charles of St. Croix on June 16 for vandalizing the bandstand by Fort Christiansvaern near the waterfront in Christiansted.
According to the arresting affidavit, surveillance cameras showed Charles remove a stud and start hitting and kicking the rails and frame.
"He destroyed about two sections of the structure and the area was left with rusty nails and wooden studs everywhere. He then returned to the park and was apprehended," National Park Service Chief Ranger Isander Rodriguez said in the affidavit.
Charles is charged with destruction of government property, tampering and vandalism. He appeared in court Monday and was released without bail but ordered to stay away from all federal park property.