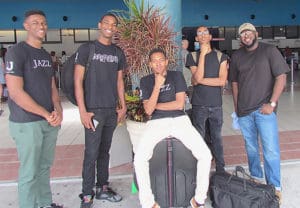 Monday's Delta flight from St. Thomas to the mainland was loaded with talent.
Five of the Virgin Islands most promising jazz artists boarded a flight that would get them to Portland, Maine, and a seven-day stay at the annual Cultural Music Camp.
Thanks to the Mentoring Through The Arts Of Music program and the 21st Century Jazz institute, they will spend seven intense days studying, working and performing together with college students from around the world, under the direction of Ron Blake, Dion Parson and Victor Provost.
According to a statement from Parson's United Jazz Foundation, the program exposes the talents of young musicians of the Virgin Islands while broadening their world of music.
St. Thomas native Parson, an internationally known jazz drummer now based in New York, has become known for stirring the melting pot of jazz music and never forgetting to include the "local ingredients." With support from sponsors the students are immersed in jazz on a global scale while presenting V.I. heritage music such as Quelbe, Quadrille, Soca, Bamboula, Cariso, Calypso and Reggae to jazz musician from around he world.
On June 17 they performed for St. Thomas at Jazz By The Sea. From the 19th to the 27th they will join Sherwin Williams (saxophone), Le'Roy Simmonds (steel pan), Orel Lee (trombone), Tabari Lake (bass) and Keshawn Hardy (trumpet) at the camp.
"The goal of this music camp is to give the highly musically inclined students from the U.S. Virgin Islands the opportunity to learn about their own musical heritage and at the same time be ambassadors towards other talented college music students from around the world," according to the statement from the United Jazz Foundation.
The sponsors include the Community Foundation of the Virgin Islands, Good Karma Foundation, Fintrac, Prior Family Foundation, United Jazz Foundation, Territorial Court, Silverberg Trumpet Awards, Humanity Council, VIDE and DPNR.