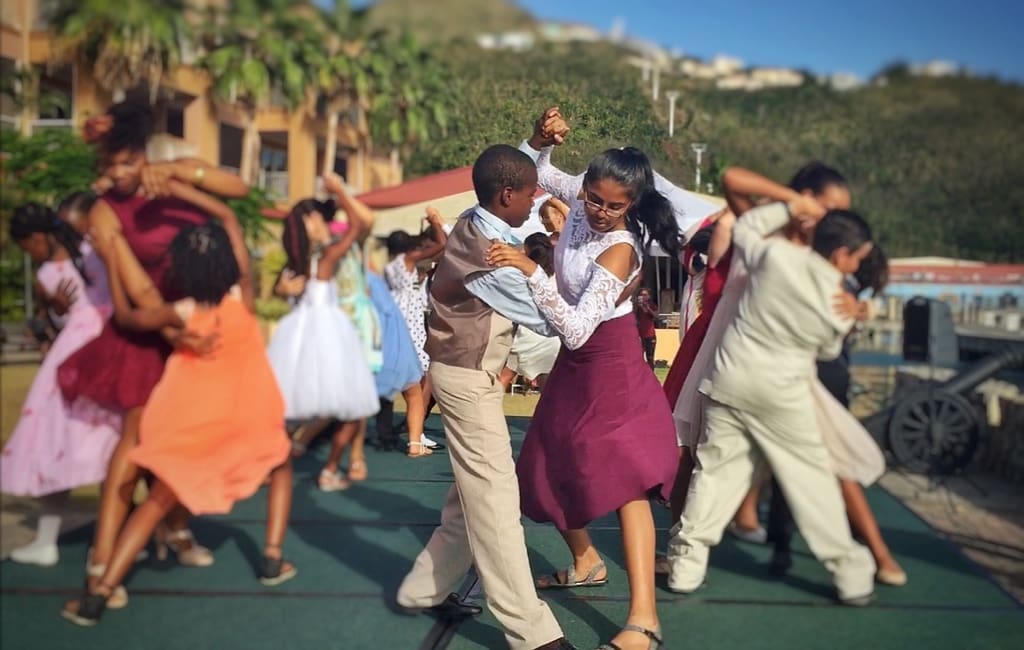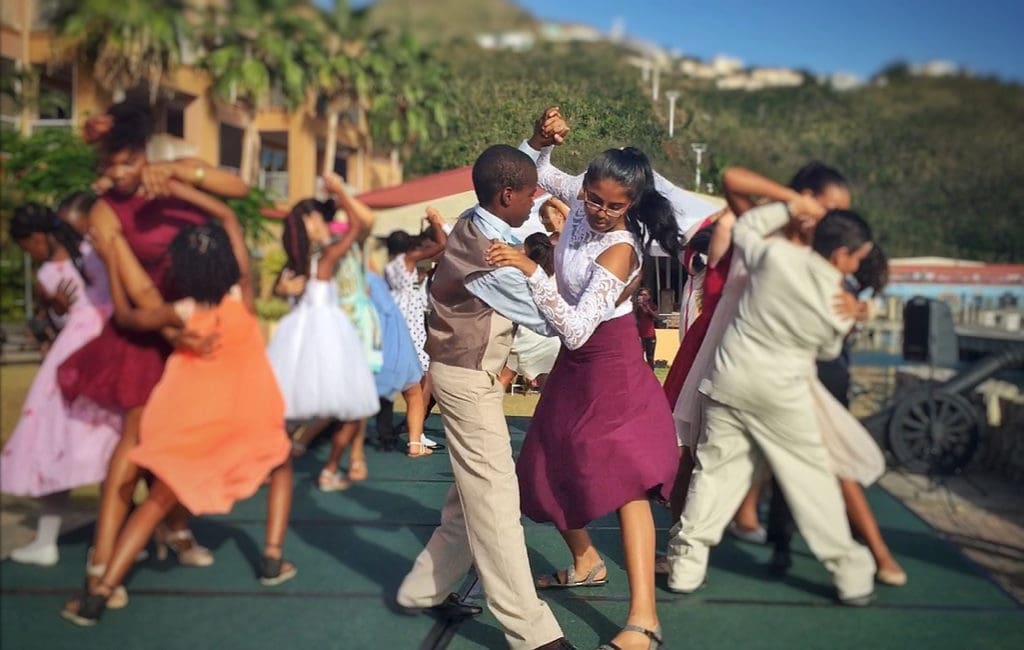 If the goal of Dancing Classrooms Virgin Islands was to help students break out of their shells in a safe environment, it certainly accomplished that with Antilles fifth-grader Samantha LeCuyer.
"The most important thing I learned with the dances was not being scared," LeCuyer said.
When asked if she was scared when the program started 10 weeks ago, she laughed nervously.
"Yes," she admitted. "Very much."
But when LeCuyer and her fellow Dancing Classrooms graduates took to the makeshift stage at Yacht Haven Grande on Saturday, there was no trace of fear or awkwardness. She and 17 other students from different schools and grade levels held their heads high and their backs straight, the girls in their colorful cocktail dresses and the boys in their smart dress shirts. Surrounding them was a circle of family, friends and complete strangers who came to watch their final performance.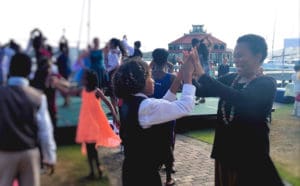 Dancing Classrooms V.I. is more than an education in the performing arts, according to DCVI Executive Director Katie Zaytoun. The non-profit program, which officially began in 2011, is a 10-week social and emotional learning experience embedded within the school day. Twice a week, students dance their way through 20 lessons under teacher artists trained in the Dulane Method and the global Dancing Classrooms curriculum.
"By lesson five, you start to see them kind of let go of what was feeling so awkward in the beginning," said Zaytoun. "Then maybe halfway through, they watch a video lesson where they see real professional ballroom dancers, dancing the dances, and they say, 'Oh, I can take into my own dancing,' so then you start to see pride."
The students appeared to be in their element Saturday, their frames elegant, attentively taking instructions from DC Global Program Director Rodney Lopez, dancing every style from the tango to the waltz, foxtrot to swing to merengue, some with partners they have never met before.
"They learn how to hold each other with respect, how to show elegance, and how to have respect for yourself and for the other person you're dancing with," Zaytoun said. "A lot of times, they may be dancing with someone they don't particularly care for but they learn how to get past that through the art involved in dance."
This year, after the onslaught of Hurricanes Irma and Maria, Zaytoun and her team faced a daunting challenge. Their fall program fell within the immediate aftermath of the storms, making it impossible to execute. Schools were on half-day schedules, sharing campuses with other schools, putting a strain on the key ingredients making Dancing Classrooms possible: dedicated spaces and teacher participation.
"With only four hours in the day, it was really hard for our school partners to have us back," said Zaytoun.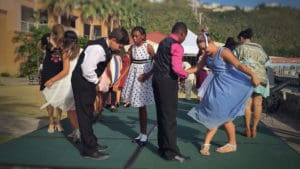 In spite of these challenges, several schools on both districts still managed to take part this year. On St. Croix, Dancing Classrooms hosted fifth-graders from Lew Muckle, Pearl B. Larsen, Juanita Gardine, Claude O. Markoe and Ricardo Richards Elementary Schools. On St. Thomas, they ran fifth-grade programs at Antilles School, Leonard Dober Elementary and Lockhart Elementary School, as well as eighth-grade programs in partnership with Antilles School and Virgin islands Montessori School and Peter Gruber International Academy.
Sitting on one of the benches with a smile of her face was Virgin Islands Education Commissioner Sharon Ann McCollum.
"Dancing Classrooms is an absolutely wonderful program," said McCollum, who said she learned about it while still the principal at Ivanna Eudora Kean High School.
"I have the opportunity now as commissioner to support the program in a broader manner," added McCollum. "I think, as small as this may be, this teaches socialization skills, and will help our young people to interact in a more positive and fruitful manner."
For their final number, students approached members of the audience, asking them for the next dance. For the duration of the next song, the stage was a sea of dancing couples young and old, friends and strangers, dancing in unison.
"By the end,you really see that confidence and overcoming all of the barriers that they've encountered along the way," said a beaming Zaytoun. "Whether it's not wanting to touch another person or just the challenge of learning a new step. Overcoming that, and having that sense of accomplishment."
Zaytoun said she hopes that when schools return to their full schedules and reclaim their own space, Dancing Classrooms can come back with its full offering of programs. For her and her team of Teaching Artists, watching their students graduate is worth every hurdle they have met and may yet face along the way.