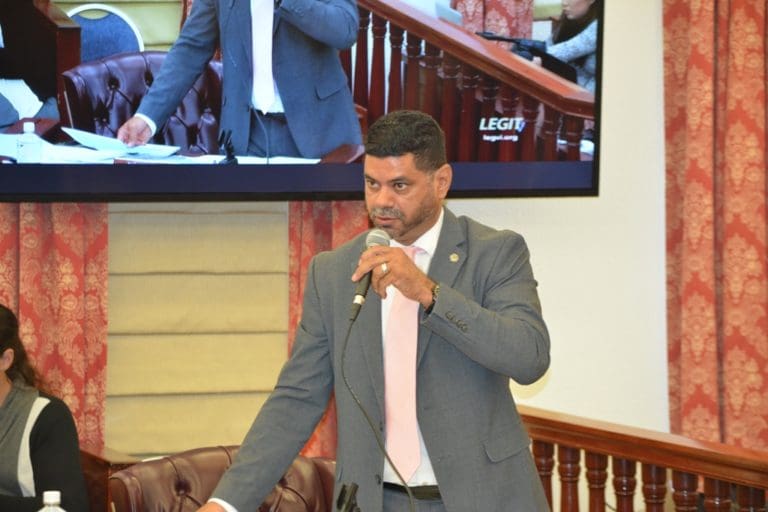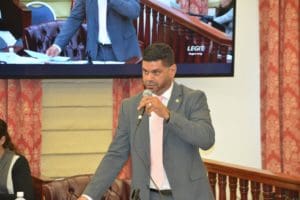 Lawmakers on Thursday approved what they called a long overdue bill that increases penalties for crimes involving human trafficking in the Virgin Islands.
"It is a worldwide problem and we have it right here in the Virgin Islands: women, children and men who are victimized," said Sen. Janette Millin Young, who along with Sen. Jean Forde, joined primary sponsor Sen. Sammuel Sanes in advancing the bill, now called "The Virgin Islands Uniform Prevention of and Remedies for Human Trafficking Act."
"I've been fighting for this for eight years now," said Sanes, who went on to share his encounter at a conference with a young Mexican girl who was kidnapped, placed in a sex ring, and raped 40,000 times within a period of four years.
"This is what we're talking about: the exploitation of women, men and especially minors," he said.
According to the Uniform Law Commission, human trafficking is second only to drug trafficking as the world's fastest growing criminal enterprise, and affects 27 million people globally. In response to a 2010 proposal by the American Bar Association's Center for Human Rights, ULC began putting together a uniform and comprehensive set of policies that states can adopt to prevent and punish crimes involving human trafficking.
The legislation tackles human trafficking in three ways. It prevents and penalizes criminal conduct, including trafficking, forced labor and sexual servitude. It also provides essential protections for human trafficking victims, including keeping identities confidential and preventing the use of past behavior as evidence. It also removes the statute of limitations for crimes involving human trafficking.
Sen. Neville James said human trafficking is not hard to accomplish in the V.I., with its myriad of cays and crannies that smugglers can easily navigate. He also said the territory should explore the possibility of an Interpol sub-bureau in the territory, something that he said the British Virgin Islands and Puerto Rico already have.
Sen. Positive T.A. Nelson painted a darker picture, indicting family members of human trafficking victims.
"It's these individuals' family members sometimes that do this to them, and as best as we can, we need to protect in particular children, or anybody that might be exploited," he said.
Sanes attached an amendment to the bill, including a punishment of no less than 25 years in prison for individuals who knowingly engage in commercial sexual activity with adults or minors that they know to be in sexual servitude.
Lawmakers also approved Thursday a bill sponsored by Sen. Tregenza Roach that would require the governor to involve the legislature in any prolonged extension of a declared state of emergency in the territory. Currently, the governor can declare and extend a state of emergency indefinitely, but Roach's bill would require consulting the legislature if the extension exceeds 60 days. If the legislature fails to convene and act within five days, the state of emergency can continue.
"In every instance, the territory and the people of the territory are protected," said Roach.
Senators also approved the creation of a registry for senior citizens — meaning 60 years and older — and persons with disabilities so they may be contacted in times of emergencies or natural disasters. The bill, sponsored by Sen. Dwayne DeGraff, arose in response to reports of elderly residents going missing after the hurricanes.
Among other items approved by senators Thursday were:
-A bill allowing the Department of Public Works to replace parking signs that indicate parking for the handicapped using $20,000 from the Transportation Trust Fund.
-A bill honoring Irvin "Brownie" Browne, Sr. for his cultural and musical contributions to the territory by naming a section of General Gade, from the intersection of Veterans Drive to the intersection of Silke Gade, after him.
-A resolution honoring Virgin Islands singer Lorna Freeman for her charitable performances in the community and recognizing her as an ambassador for the territory.
-A bill establishing the month of May as Virgin Islands Stroke Awareness Month.
All but one of the above-mentioned bills were approved unanimously by the Senate except for Sen. Alicia "Chucky" Hansen, who was absent. Hansen was present to vote yes to the resolution honoring Freeman.