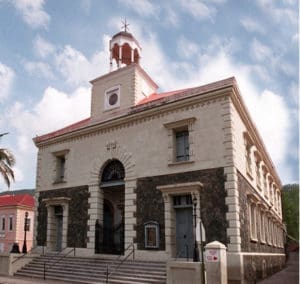 Two parochial schools got a boost Saturday night as the Moravian Church hosted its International Taste of the Territory at Walker's by the Sea Restaurant.
The evening's goal, according to event planners, was to aid two St. Thomas schools damaged in the 2017 hurricane season.
An estimated crowd of 300 filled the venue near the airport turnoff to sample dishes from India, Thailand, Japan, Guyana, Dominica, the Lesser Antilles and the Continental U.S. Restaurants, caterers, chefs and foodie families greeted the crowds with food and drinks.
"It was wonderful. the planners, everyone was there, making sure everything went smoothly," said educator and culture bearer Glenn Davis, better known as Kwabena. "Wendell Walker and his staff were there to support us too."
The sampling menu included appetizers, soups, entrees and desserts. About 20 exhibitors were expected. Most made it to Walkers, Davis said, although some did not. There were, however, enough to make it worthwhile.
In addition to the food selection, the $25 admission also made attendees eligible for door prizes provided courtesy of the Green House and Virgilio's Restaurant.
Proceeds from the international food fete are still being tallied, Davis said Monday. They're expected to help Nisky Moravian School and the Moravian Primary School near Roosevelt Park.
"There is some hurricane damage, particularly at the Moravian School kindergarten where the little folks are. They had some roof damage," he said.
In a February report shared at the 2018 Synod of the Moravian Churches, Southern Province, Board of World Mission, North America, the primary school on St. Thomas and Emmaus Moravian Church on St. John were noted for having sustained significant damage.
Funds are also needed to help the schools make up for shortfalls caused by post-hurricane enrollment declines.
Taste of the Territory, along with the King of the Wing Fundraiser at Magen's Bay Beach and the post-graduation soiree for Antilles School at Paradise Point, all helped to make Saturday festive on St. Thomas.