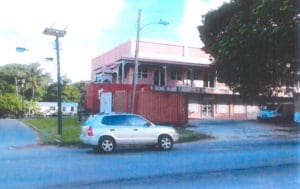 The Department of Planning and Natural Resources on Thursday advised the Senate to deny a request by a St. Croix business owner to rezone a parcel in Estate Clifton Hill from residential to business.
According to Leia LaPlace Matthew, a planner at DPNR, the department based its recommendation on a few factors, including the potential for building a gas station and opposition by neighbors.
Timothy and Marie Granderson, owners of Distance Freight, are asking that Parcel 168 in Clifton Hill be rezoned from R-1, or low-density residential, to B-2, or business-secondary. This would allow them to relocate their freight business from its current location, nearby 1C Clifton Hill. The existing structure on the old location would then be rented out to businesses and converted into a guest house if a separate rezoning request – already approved by DPNR –– for that parcel was also granted.
The Grandersons stressed that nowhere in their request was a gas station mentioned, but Sen. Janette Millin Young pointed out that once the rezoning was granted, the Granderson's build one on the propertyor, should they decide to sell, future owners could do so.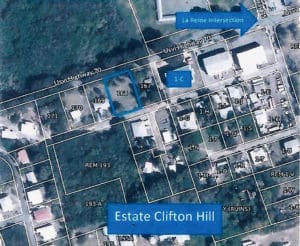 None of the neighbors who voiced complaints at a public hearing in December 2017 appeared before senators on Thursday. LaPlace-Matthew reiterated their concerns based mainly on their experience with the Grandersons' current business activities on 1C, only one plot away from the residential subdivision. If granted, the Grandersons' freight business would sit squarely in the middle of the same residential area.
Among the neighbors' concerns were flooding, increased problems with traffic, deterioration of the roads, and a general decline in the desirability of the area for residential use.
"The only thing that is going to happen in 168 is when the trailers come in and the ground is going to be set for the trailers," countered Timothy Granderson.
The neighbors also expressed concern about decreasing property values, according to Laplace-Matthew, but that effect may occur on a case-by-case basis depending on activities in surrounding properties, she said.
Sen. Tregenza Roach said that opposition always gives him pause, considering that residents are sometimes hesitant to voice resistance for fear of creating enemies.
"Your neighbors not only oppose but they say the opposition is based on their experience, based on what you have done before," added Roach. "So that makes it even more critical for us to consider."
Timothy Granderson said the best course of action may be to go back to his neighbors and discuss ways to move the rezoning request forward.
Planning and Natural Resources did recommend granting a use variance for another St. Croix businessman, Hans Lawaetz, who wants to use his guesthouse on Plot No. 2AF, Estate Upper Love, as a bed and breakfast. According to Lawaetz, the request stems from St. Croix's current shortage of hotels and from individuals approaching about operating the bed and breakfast.
The plot, already zoned as A-I, or agricultural, will not be rezoned, only given permission for additional use if the request is granted.
LaPlace-Matthew also presented the following recommendations by DPNR:
– Denial of a request by Luis and Ludymar Ortiz to rezone Plot No. 56 of Parcel No. 67 of Estate Mount Welcome from R-1 to R-3, residential medium density, to build a three-story, two-family house.
– Approval of a use variance request by Jestina Barbour for Plot No. 17 of Parcel No. 2 Estate Concordia to be able to install two containers that will house a bakery and a retail clothing store.
– Approval of a request by Wendy Phoenix to rezone Plot No. 1O-D Estate Constitution Hill from R-1 to R-2 so it can be consolidated with an adjacent R-2 property and then re-subdivided.
The Senate will vote on the zoning requests at its next session on June 14.