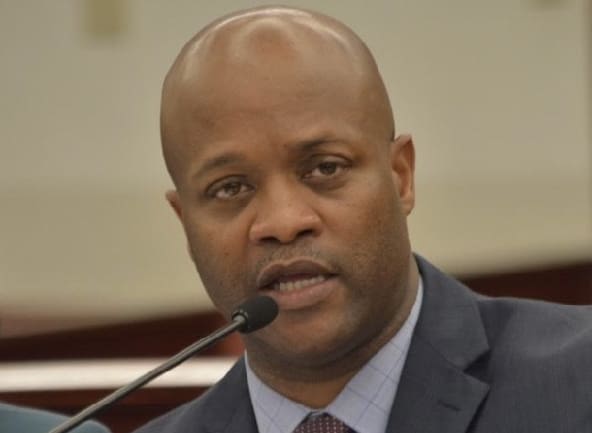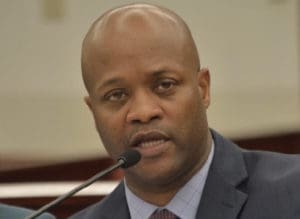 Valdamier Collens, executive director of the V.I. Public Finance Authority, told the Senate Committee on Finance Wednesday that the territory faces financial challenges in its recovery efforts.
The federal government has committed more than $1 billion to help, but getting the money and monitoring how it will spent won't be easy.
The challenges include:
– The need to secure collateral for loans,
– Determining whether it is economically wiser to rebuild or repair,
– Coming up with matching funds,
– Changing projects' scopes.
He also said at times it can also be a problem dealing with FEMA's policy of rotating staff.
The Community Disaster Loan program, according to Collens, is a large challenge for the territory.
"Unlike loans issued after hurricanes Hugo and Marilyn, FEMA and Treasury have been asking for types of collateral that have not been requested before or elsewhere, and have made other financial activities more difficult. For example, previously the loans were essentially guaranteed by the full faith and credit of the territory. Now the government of the Virgin Islands is being asked for securitized collateral in the form of bonds along with other restrictive covenants, thereby constraining our debt capacity for future capital improvements and economic development of the territory," he said.
About FEMA's rotation policy Collens said the incoming public assistance coordinator or project specialist will not have access to, or worse, will simply disregard, previous work performed regarding the project, and will start over from scratch.
After Collens read his 56-page testimony and Domingo Camarano, head of the contracting firm running the Emergency Home Repairs V.I. Program testified, senators put emphasis on what they saw as a major problem – local subcontractors not getting paid.
"Here we are dealing the world's largest engineering firm and contractors not getting paid." said Sen. Brian Smith. He added, "Disasters are extremely lucrative businesses, are they not?"
Sen. Positive Nelson was also concerned with contracts with Ernst & Young and Witt O'Brien's – the two lead consulting firms that the government has partnered with to work through the recovery. Their combined contracts total $60 million. Nelson noted that the firm's officials were getting paid while local contractors were not.
"We are making other people rich while we are still in a predicament," Nelson said.
Sen. Janelle Sarauw was concerned about the pace of the recovery efforts.
"All the presentations today look great but right now our people are being marginalized," she said.
Camarano gave a rundown of emergency home repair program, in which no more than $25,000 will be spent on one home.
Daryl Griffith, executive director of the V.I. Housing FinanceAuthority, said "The program is not intended to get a home to pre-hurricane condition but is intended to make a home safe and habitable while awaiting permanent home repairs."
Major repairs are being made to roofs, windows, and cisterns, according to Camarano. He said initially the firm identified about 15,000 potentially eligible homes. But as the program didn't get going until six months after the hurricanes, many homeowners had repaired their homes already. The firm then predicted 10,000 applications would result in 6,200 homes that would be eligible for the program. However, 7,400 homes were found eligible for program.
Senators expressed concerned when Camarano said that repairs on 1,600 home had been completed and his deadline for doing the rest was Aug. 15.
"If things don't change he is not going to make," Sen. Jean Forde said.
He brought up again the lack of pay for subcontractors, saying that if they weren't paid they might not be there to finish the job.
According to Collens, Witt O'Brien has been under contract with the PFA since Dec. 1, 2017, as the lead recovery consultant. It is responsible for FEMA's Public Assistance and Hazard Mitigation Grant Programs and HUD's Community Development Block Grant and the Disaster Recovery Program. Short terms tasks included Water and Power Authorities debris removal and Sheltering Temporary Essential Power Program.
Ernst & Young is assisting the government with compliance, monitoring, oversight and transparency for most of those grants.
Lloyd Bough, Jr., commissioner of the Department of Property and Procurement, said though his department is understaffed it has executed more than three dozen storm related contracts. He said his procurement division currently has eight employees and needs 71 more.
When the meeting began, Chairman Sen. Kurt Vialet emphasized its purpose.
"This is not a budget hearing. This meeting is about the hurricane recovery process. The public consistently has inquiries concerning the entities hired by the government of the Virgin Islands and what their roles are in the territory."
Collens concluded his testimony saying, "All the aforementioned issues are exacerbated by the longstanding struggles created by the overall fiscal state of the territory. Many of the programs mentioned throughout this testimony are reimbursement programs, meaning the territory must have enough money to pay its bills and then seek reimbursement from the federal government."
Senators present during the hearing were Vialet, Marvin Blyden, Smith, Tregenza Roach, Jean Forde, Novelle Francis, Positive Nelson and Janelle Sarauw.