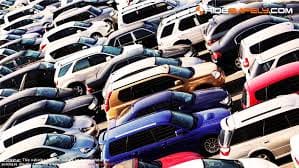 The Government of the Virgin Islands will hold a vehicle auction on Saturday, June 9, at the Motor Pool in Sub Base on St. Thomas, according to a press release from the V.I. Department of Property and Procurement. Registration will start at 9 a.m.
Community members who are interested can pre-register between 9 a.m. and 2 p.m. on Thursday, June 7 or Friday, June 8, at the Property and Procurement main office, No. 1 Sub Base. The $100 registration fee is non-refundable.
Only persons 18 years of age and older are allowed on the premises. Winning bids are limited to two serviceable vehicles per registered bidder.
For more information, call 774-0828 or pick up an auction booklet at the Motor Pool or the main office.