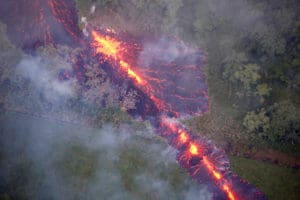 With the nation's, if not the world's, eyes focused with a mixture of awe, fear and fascination on Kilauea, the Hawaiian volcano which began its most recent eruptive phase  May 3, it raises the question, "What about the Virgin Islands?"
The Lesser Antilles Volcanic Arc, whose northern point begins with the Virgin Islands, includes 17 active volcanoes, notably Soufriere Hills on Montserrat, Mount Pelée on Martinique, La Grande Soufrière on Guadeloupe, Soufrière Saint Vincent on Saint Vincent and the submarine volcano Kick 'em Jenny, which lies about 10 kilometers north of Grenada.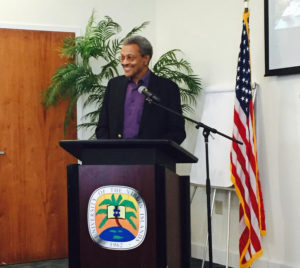 Kilauea is not the same breed as Caribbean volcanos, according to former University of the Virgin Islands professor Roy Watlington, who now acts as a consultant on environmental science, ocean development and climate change and who co-authored with Shirley Lincoln the book, "Disaster and Disruption in 1867: Hurricane, Earthquake and Tsunami in the Danish West Indies."
Watlington, who when interviewed Wednesday morning was on his way to Montserrat to survey and provide an overview on that island nation's major hazzards said, Caribbean volcanoes are more explosive and therefore more dangerous close up than the slow type seen with Kilauea, the lava of which tends to move slowly.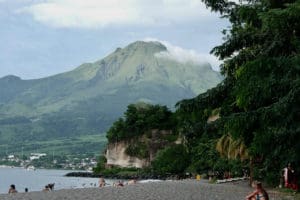 Watlington used the term pyroclastic when talking about the Caribbean volcanoes. A quick web search shows why he said they were more dangerous. A pyroclastic flow upon explosion can move at speeds up to 430 miles per hour. And it is actually an explosion. Think Pompeii, or much closer in space and time the 1902 eruption of Mount Pelée which obliterated the Martinique town of St. Pierre killing all but two of its 30,000 residents.
Kilauea however, yields lava filled fissures that emerge as cracks in the earth and have a much slower flow. Until the lava from these types of volcanoes hit the water table and produce steam, there is little danger of explosion.
Despite the dangers of Soufriere Hills volcano on Montserrat, hurricanes are still the greater danger to the island that is slowly being repopulated after numerous volcanic explosions over the last decade drove out the majority of the residents, according to Watlington.
And earthquakes are more likely than volcanoes – even accompanied by lava flow – to start the wave action that breeds tsunamis.
The Virgin Islands has a long history with Soufriere Hills volcano, which is about 200 miles away. Over the years it has periodically spewed ash and gas across the territory. But nothing more than that, so far.
According to volcanologist Dr, Peter Ward, lack of an emergency plan is the danger posed by volcanoes, not the volcanoes themselves.
In a telephone interview from his home in Wyoming he said, "That's the good news."
Volcanic activity, along with earthquakes and tsunamis, is being watched. With the global monitoring system there is time to evacuate and at the least mitigate loss of life.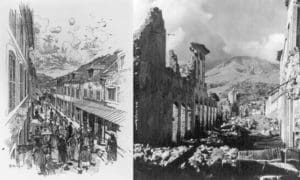 The tragedy of Martinique speaks clearly to the importance of a plan – and a well-developed one at that. Despite signs of impending eruption, the government deemed St. Pierre safe due to hills and valleys between it and the volcano, but the pyroclastic flow charred almost the entirety of the city, killing almost everyone.
One assumes what happened in 1902 or 79 AD for that matter would never happen in today's modern technological world. And maybe that's true for volcanoes.
But a greater threat to the Virgin Islands by far are tsunamis.
On Jan. 9, a 7.6 earthquake off the coast of Honduras raised a warning for the potential for a tsunami in the Virgin Islands and Puerto Rico. Since those islands were still in the dark mediawise after two category five hurricanes wiped out electricity, internet, cable TV and land line telephones, along with completely destroying the tsunami siren warning system that had only recently been completed, the danger had passed before most residents had any idea there was a danger.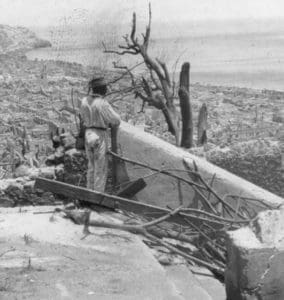 Watlington recalled that thanks to Virgin Islanders on the mainland, people on the islands did get texts about the warning, but with little connectivity, few details were available. He was quick to point out also that the failure of the national warning system along with time zone differences caused problems for the V.I. Territorial Management Agency. (See "VITEMA's Tsunami Advisory Came a Little Late" in related links below.)
On the positive side, VITEMA has a plan. But the plan will not immediately include the 44 tsunami sirens that were damaged or destroyed by Hurricanes Irma and Maria last September.
While progress has been made to repair or replace the sirens, VITEMA Deputy Director Denise Lewis refused to speculate when those devices will be functional again.
"We have a vendor and are awaiting the monies from FEMA to get started," Lewis said Wednesday. "But remember these took a long time to put up, it was done in phases."
The new tsunami sirens will be stronger, she said. And that will take time, too.
"No matter what kind of natural event causes a tsunami, the response is the same," Lewis said. "The first responders – police, fire and emergency medical technicians – all have microphones and sirens on their vehicles." If the event causing the tsunami happens close to home, Lewis said, those devices will be employed. If it is regional – for example, a landslide in Dominica that could cause a tsunami, or Kick 'em Jenny, a submerged volcano five miles north of Grenada that scientist have speculated could cause a tsumani, or more likely if a significant earthquake – as with the 7.5 Honduras event – should start huge amounts of water rushing toward the Virgin Islands' shores, VITEMA will use Alert-VI as well as the local media to notify residents of the impending danger.
But as Ward pointed out, in those cases, there is sufficient warning time for governmental agency plans to be implemented.
"Deaths due to volcanic activity and ensuing tsunami's is inexcusable in today's world," he said. "We've got the science."
"Of course," Lewis said in the case of events closer to home, "if you feel an earthquake, that lasts more than 15 seconds, causes refrigerators to move and if you can't stand up, [due to the shaking] that's your warning. Head for higher ground."