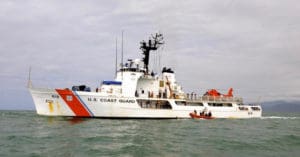 U.S. Coast Guard rescue crews ended their search Wednesday night for the crewmember who went over the side of a cruise ship about eight nautical miles southeast of St. Thomas. No trace of the crewmember was found.
According to the Coast Guard, 37-year-old Michael M. Majaba of the Philippines, went overboard from the seventh deck of the Maltese-flagged cruise ship MSC Seaside at about 1 a.m. Wednesday. The cruise ship crew launched a search and contacted watchstanders at the Coast Guard Sector San Juan Command Center at approximately 4 a.m. alerting them of the situation.
Coast Guard rescue crews comprised of a C-130 aircraft from Air Station Clearwater, two MH-65 Dolphin helicopters from Air Station Borinquen, a 33-foot Special Purpose Craft–Law Enforcement response boat from Boat Forces Saint Thomas and the Coast Guard Cutter Confidence conducted five air and three surface searches covering an area of approximately1,216 square nautical miles.
The motor tanker Rose and Carnival Glory cruise ship also assisted in the search.
"Our thoughts and prayers are with family and friends of Majaba and the MSC Seaside crew during this difficult time," said Capt. Eric King, Sector San Juan commander.
The cruise ship was transiting from the Caribbean Island of St. Maarten to San Juan, Puerto Rico when the incident took place.
Confidence is a 210-foot Medium Endurance Cutter homeported in Port Canaveral, Florida.
Reports circulated Thursday morning on social media that Majaba's boy had been found, but that was not correct, according to Coast Guard spokesman Ricardo Castrodad in San Juan, Puerto Rico.