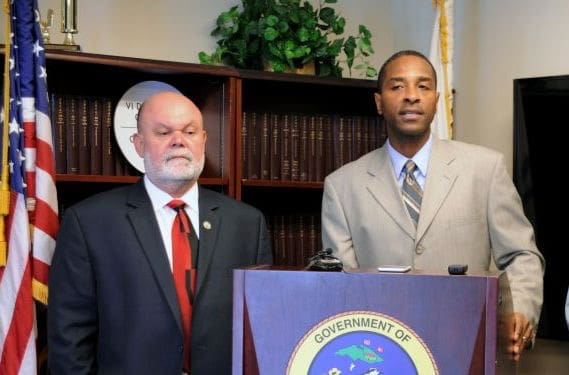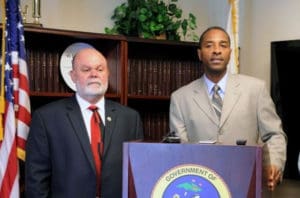 Touting a $1.5 million settlement awarded to the territory for faulty Takata airbags installed in local cars, Attorney General Claude Walker said affected residents with older vehicles will soon get checks for $200, while the government takes the lion's share of $1 million.
Walker announced the settlement at a news conference Monday on St. Thomas.
Walker first championed the lawsuit against Takata in 2016, claiming the company and its U.S. subsidiary TK Holdings had "concealed and misrepresented" the risks of the now recalled airbags. A second lawsuit, against Toyota, Nissan, and Ford – whose vehicles are also equipped with the recalled airbags – was filed a year later.
In the territory, at least one resident on St. Croix was injured when her airbag "exploded," and Walker has said any resident with a Takata bag faces the same risk.
Hawaii and New Mexico joined the territory in its first suit against Takata and Walker announced Monday an overall settlement total of $7 million, which he said was the largest awarded to date to states that had filed against the Japanese automaker. TK Holdings has since filed for bankruptcy and according to the court approved settlement, as many as 2,500 residents across St. Thomas, St. John and St. Croix will receive a $200 payment, for a total $500,000 out of the overall $1.5 million given to the Virgin Islands.
Asked at Monday news conference what happens to the remainder of the funds, Walker said Justice operates on a budget that it tries to stick to. Therefore, after payouts to consumers, the rest of the money stays with Finance, which will then decide where it goes. Finance will also issue the $200 checks, and residents have to present their drivers licenses and registration when they come to pick them up.
"What we try to do in these types of cases is extract a portion of the money with the consumers, and that's the agreement we have," Walker said. "Still, $200 is nothing to sneeze at. That's still a lot of money for lunch, breakfast, or preparing for the hurricanes."
He added that generally, consumers in the states awarded settlement funds would get a $5 coupon, which makes the government's ability to pay out $200 "unprecedented."
Meanwhile, there's still work to do. Walker said the government will push forward on its second case, while consumers in the territory who still have faulty airbags should get them removed.
Bureau of Motor Vehicles Director Lawrence Olive, who was also present Monday, said advisories have been issued, and motorists are encouraged not to drive:
2001-2002 Honda Civic
2001-2001 Honda Accord
2002-2003 Acura TL
2002 Honda CR-V
2002 Honda Odyssey
2003 Acura CL
2003 Honda Pilot
Certain 2006 Ford Rangers and certain 2006 Mazda B Series