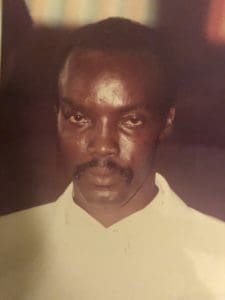 Hezekiah Mitchel Burton, better known as "Burton," died May 7 on St. Thomas. He was 62 years old.
He is survived by his daughter, Desiree Burton; son, Antonio Burton; adopted sons: Randy Burton and Desmond M. Burton Gittens; sisters: Monica Rohana Johannes, Carmella Smith, Lauretta Jarvis and Goldine Burton-Knight; brothers: Alston Neilon Burton, Oreal Burton, Aubrey Burton and Alexander Charles Burton Sr.; sisters-in-law, Analda Burton; and brothers-in-law: Emerson Knight Sr., Oscar Smith and George Johannes.
He is also survived by grandchildren: Joshua Maldonado Magras Jr., D'shorn Burton, Dessie Rebecca Burton, Victoria Linda Burton, David Michael Burton, La'Tenique Burton and Rashan Burton; aunts: Doris Burton, Edna Bliden, Marge Burton and Irose Burton; uncles: Samuel Jacob and Conrad Burton; as well as many nieces, nephews, other family and friends.
Relatives and friends are respectfully invited to attend the first viewing from 5-7 p.m., Tuesday, May 22, at the Celestial Chapel – Hurley Funeral Home. The second viewing will be held at 9 a.m. followed by a funeral service at 10 a.m., Wednesday May 23, at St. Andrew's Episcopal Church. Interment will be at Western Cemetery No. 1.
Arrangements are under the care of Hurley Funeral Home and Cremation Center of St. Thomas, St. John and St. Croix.