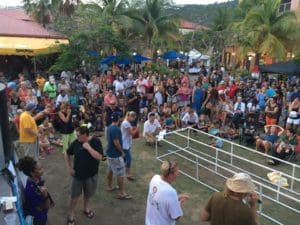 The Yacht Haven Grande marina will play host to dogs and owners of all shapes and sizes from 5-9 p.m., Saturday, May 5, when the Rotary Club of St. Thomas East presents its annual Chihuahua Races event. Open to the public, the races will begin at 6:30 p.m. with 30 dogs, all under 20 pounds, competing on a short track to win bragging rights and prizes provided by the local business community.
This year's event will also feature a new addition in the form of an owner/dog beauty pageant that will encourage costumed pets and owners alike to participate. The purchasing of tickets will decide the winner; each $1 ticket will count as a single vote. The event is a community favorite that will feature food vendors, event T-shirts and Cinco de Mayo-themed apparel for sale by Rotary Club members.
All proceeds collected after expenses will be used to provide school backpacks and new school supplies for every first-grade student on St. Thomas next fall.
Registration for all race participants is $25 and is only for dogs (any breed) under 20 pounds. Registration will take place at Style a Dog Boutique located at Crown Bay Marina and is limited to 30 entries.
For information, call 776-3641 (hours of operation are 8 a.m. to 5 p.m., Monday, through Saturdays.
Anyone planning to enter the Beauty Pageant is encouraged to email owner/pet photos to [email protected]. A $25 entry fee will apply, and 10 finalists will be contacted to participate in the final selection on the day of the event.
This event is sponsored by Bellows International, Fat Turtle, Yacht Haven Grande, The Dog House Pub, Paradise Rental Car, The Buzz 104.3 FM and Style a Dog.