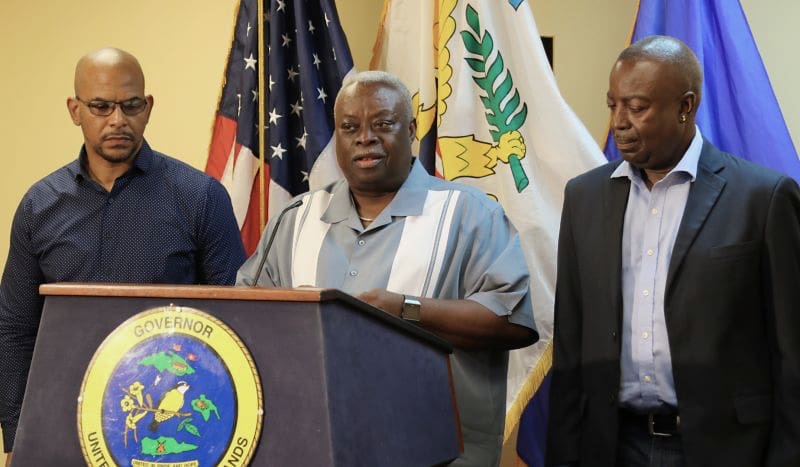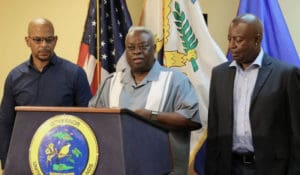 It will take three to five years and $1.2 billion to overhaul all of the territory's main roads, but the first phase of that process will soon begin, backed by $530 million recently approved by a range of federal agencies, according to Gov. Kenneth Mapp.
Mapp made the announcement during a news conference Tuesday on St. Thomas.
Following the twin hurricanes of September, the government assessed all 1,273 miles of public roadway throughout the territory. but discovered there was no criteria or specs laid out in the law about how to construct or repair them. Putting their heads together in December, Public Works and Federal Emergency Management Agency top brass designated all roads be constructed according to federal Transportation Department standards, which includes putting in the proper foundations, drainage, widths, striping, reflectors, signaling and crosswalks, among other things.
From the assessment, it will cost: $330 million to bring 353 miles of public roads on St. Thomas up to standard, $87 million for 124 miles of roadway on St. John, $8 million for 11 miles of road on Water Island and $706 million for 785 miles on St. Croix. Overall, the total is $1.2 billion, but Mapp said the first phase includes:
St. Croix
Queen Mary Highway
South Shore Road
North Shore Road and Salt River Road
East End Road
St. Thomas
Bordeaux to UVI
Frenchman's Bay and Bolongo Bay
St. Peter Mountain Road and Skyline Drive
Hull Bay Road
Mandahl Road
St. John
Entire Centerline Road
All of the 11 miles on Water Island will be done as single project.
Of the $530 million set aside for the first phase, $100 million in Garvee bond proceeds already authorized and pledged for road projects will be used, along with: $80 million FEMA's Public Assistance Program, $100 million FEMA's Hazard Mitigation Grant Program, $40 million from the Federal Highway Emergency Road Repair Program, $205 million in Housing and Urban Development Community Development Block Grant Disaster Recovery (CDBG-DR) funding, and $5 million approved from the Department of Interior.
Out of the block grant funds $10 million will be used to remove neighborhood dumpsters and construct refuse centers.
Some roads would receive temporary fixes until they can be fully reconstructed, Mapp said, adding that there will be areas where Public Works will authorize asphalt overlays until permanent construction can begin.
New street signs also will be ordered. Meanwhile, the governor said that getting the project completed requires the hiring of extra engineers and project managers, who will staff what is "essentially" a new Highway Division under Public Works.