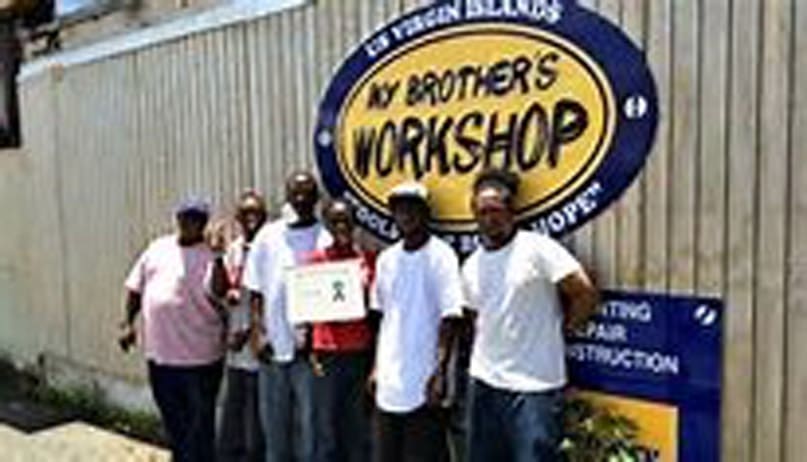 The Mapp administration is making good on its promise to release overdue funding to V.I. non-profits for the current fiscal year.
However, there appears to be no plan to make up a substantial shortfall from fiscal year 2017. And there are no promises beyond the third quarter of FY 2018, as the government struggles with massive deficits.
Representatives of several non-profits contacted by the Source Tuesday said they recently received their first and second quarter allotments for FY 2018. That covers the calendar time period of Oct. 1, 2017 to March 31, 2018.
Leaders of many of the territory's non-profit organizations demonstrated in March after they were told they would not be paid for the services they contracted with the government to provide to the public – most of them on behalf of the Department of Human Services – and which they had already delivered.
Those services included feeding and sheltering the homeless, providing counseling and support services for abused and abandoned children, job training and intervention counseling for youth and adults, support services for the disabled, advocacy for battering victims and mental health and substance abuse counseling.
The vast majority of the charities had not received payments for the last quarter of FY 2017 or anything in FY'18, and many said they were teetering on collapse.
A legislative hearing followed the outcry, and at the end of it, Sen. Nereida Rivera- O'Reilly announced that "the governor, (Kenneth Mapp) who was unaware of the severity of the matter, has directed OMB (Office of Management and Budget) to prioritize payments to non-profits."
DHS spokeswoman Carol Burke confirmed that checks now have been issued to most non-profits to cover the first half of FY'18 and that organizations have been told they should submit the necessary paperwork to request payments for the third quarter.
There is no word yet on FY '18 fourth quarter allotments "because we're not at that point yet," Burke said.
As for the unfunded fourth quarter of FY 2017, Burke said, "Nothing's happing with that. To our understanding, OMB is not going to go back there. That budget cycle is done. We have to move forward."
At least some in the non-profit community are resigned to the shortfall.
"That fourth quarter of 2017 is just gone," said Carolyn Forno, who handles finances for the Women's Coalition of St. Croix. "They say they're not giving that out to anybody."
Jenny Hawkes, executive director of My Brothers Workshop, said she was told by government staff that "we're not going to see the fourth quarter."
Gail Shearer was happy when she received word that V.I. Volunteer Advocates for Children (formerly CASA) would soon be receiving payment for the first half of 2018, but "Nobody said anything about 2017, so I've just written that off."
There was some confusion over whether the FY 2018 allotments match the legislative appropriations. It is not unusual for OMB to release – allot – slightly less than what the Legislature appropriates for some expenses if the budget director determines there is not sufficient money available for the full appropriation.
The industry representatives said they were first told that the 2018 allotments would be 12.5 percent less than the appropriations, then that they would be 6.25 percent less. Forno said the Women's Coalition even received an amount – $52,500 – representing approximately 12 percent less than what was appropriated for the first two quarters, $60,000, and then were told that the government would make an adjustment in the third quarter payment so the overall reduction would be just 6.25 percent.
Burke, however, disputed that. She said the overall 2018 allotments will be the same as the appropriations.
Presumably, that will be the case only if the 2018 fourth quarter allotment is not skipped, as was the 2017 fourth quarter payment.
The fourth quarter "is always the tricky part," Hawkes observed.
"I get what's happening," she said, referring to the government's economic difficulties, and adding she doesn't want to criticize anyone who is trying to get funds for non-profits.
But the reduced funding has left charities struggling too. They say they are meeting the challenge by cutting staff and services and relying on other income sources, including federal grants, private donations and fundraisers.
"We have other streams of revenue, so we'll just have to make it up that way," Hawkes said.
"We're going to be probably tapping into our reserves," Shearer said.
"We are not going to cut our services because that's not who we are," Forno said. Instead, they will redouble fundraising efforts.
And, Forno said, "We have to continue to speak up. We can't let the most vulnerable population be targeted for these cuts."