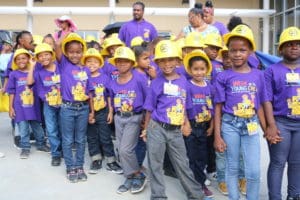 St. Thomas-St. John District closed out the 'Week of the Young Child' on Friday, April 20, with a fun field day on the grounds of the Lockhart Elementary School. The youngest learners in both public and non-public schools kicked off the day with a march from the Omar Brown Sr. Fire Station near Barbel Plaza to the Lockhart School. The week is hosted by the National Association for the Education of Young Children.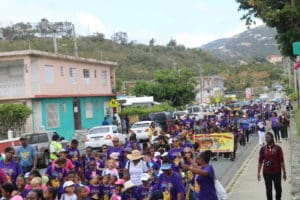 Hundreds of students, their teachers, parents and community supporters of the annual event wore a vibrant purple T-shirt with artwork depicting this year's theme "Work Together, Build Together, Learn Together." Following the march, they enjoyed a field day complete with bounce houses, face painting, giveaways, field games and fun, informational demonstrations given by community organizations and agencies.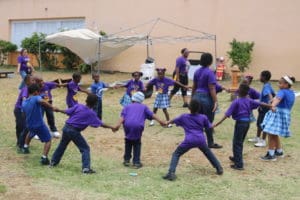 Just over six months post hurricanes Irma and Maria, the district chose to honor first responders with a special focus on traffic officers, that included crossing guards and the Virgin Islands Police Department Traffic Division. Over the course of the week traffic officers visited schools and shared information about traffic safety and taught students the names of the roadways on the island.
Elementary Programs Coordinator Kalamis Maduro said, "Every year it gets bigger. The shirts are a hit and the kids come out and have fun. I think it went well. Special thanks to everyone that made it a success."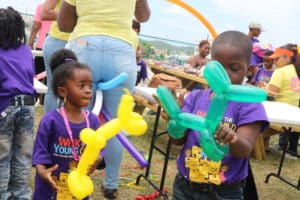 Community partners included VI Rescue; VIPD; VI Fire Services; EMS; VITEMA and 911 personnel (this week was also 911 Week); VI National Guard, Water and Power Authority (WAPA); Sports, Parks and Recreation; the Westin St. John Villa and Resort; St. Thomas-St. John American Federation of Teachers; Happy Times Entertainment; United Way of the Virgin Islands; Whimsical Rose; Department of Health; Lew Henley Sewage Disposal; Class A Rentals; WehMo Stagin and Hot on the Spot.
The event was sponsored by the Office of the Insular Superintendent, MDM Inc.; FirstBank of the Virgin Islands; United Way of the Virgin Islands and West Indian Company Limited Inc.